Keeping up to date with the constantly evolving online world is key to stay ahead in the digital marketing game.

Digital Marketing leverages opportunities using online technologies to advertise products and generate sales through devices and digital platforms.

Digital channels such as search engines, social media, email, and other websites have taken over, proving to be the most effective way of connecting brands with their potential customers.

In the ever growing digital space, every business needs to embrace digital marketing to be competitive.
Here are some of the trending digital marketing strategy principles that will help your business succeed.
Content Marketing
"Content is king" is a phrase often used, with an endless amount of information available not everything is of high value. Having a strategic content marketing strategy sets a business apart from their competitors, this can be achieved through authentic, shareable and engaging content.

It is important to give customers what they want, making it easier for them to understand what the business has to offer. Businesses need to focus on high quality content, high resolution imaging, originality, navigation and page design.

Apart from that it is important for businesses to stay consistent and relevant with the content they are posting through which current and potential customers interact with the businesses. Posting meaningless content can lead to dilution of the brand image affecting the relationship between business and customer.
Understanding the Customer
Next up on the marketing strategy principle is understanding customers sounds like a basic principle that can be lost when chasing the next big idea. Appreciate research must be done which will help in the content marketing, email and social media strategies. Direct, clear and basic messages work the best as they capture customers' attention.

Numerous tools are available that can help businesses research about their audiences like google analytics to understand demographics and audience.
Test Measure Optimize
The customer data gained about the number of search queries on google about a brand or the number of repeat visitors, website traffic is valuable data which enables businesses to make informed decisions that will impact positive progress for the business.
During testing clear targets have to be set of what is needed to be achieved.

Every goal set, be it sending out several email engagements per month or generating conversions through a promotion or blogs should be measurable. Each goal should be set with a figure in mind to build on each month.
Simplicity at its best
Keeping things simple is key. Users tend to have a short attention span, straightforward content is known to be most effective for engagement. Businesses should keep trying new strategies or optimize the tried and tested methods. The digital world is overcrowded, so businesses need to be succinct to connect with their customers.
Keep Evolving
New platforms are emerging constantly, businesses need to evolve too. Businesses need to keep aside time to research what their competitors are doing instead of hopping on the next big bandwagon and falling behind competitors, so that they can focus their efforts in the right direction.
How can Kilowott's BXT framework drive growth through digital marketing services?
The Business Experience Transformation (BXT) model innovation challenges the status quo – reimagining current functions and processes to transform for the present and for the future.
Articulating the aspirations and expectations of the organization for its engagement with the digital world and of putting the customer at the heart of everything it does.
Customers' needs and expectations are the overriding consideration in deciding what services to provide, how and through what channels.
Empowering the staff to think and act digitally, to be innovative and to seek ways to transform business processes and services for more engaging customer experiences.
Provides the criteria by which to prioritize digital initiatives so resources and energies are directed and planned appropriately.
Generates buy-in from staff and executives by explaining why BX is important, how important it is, and what t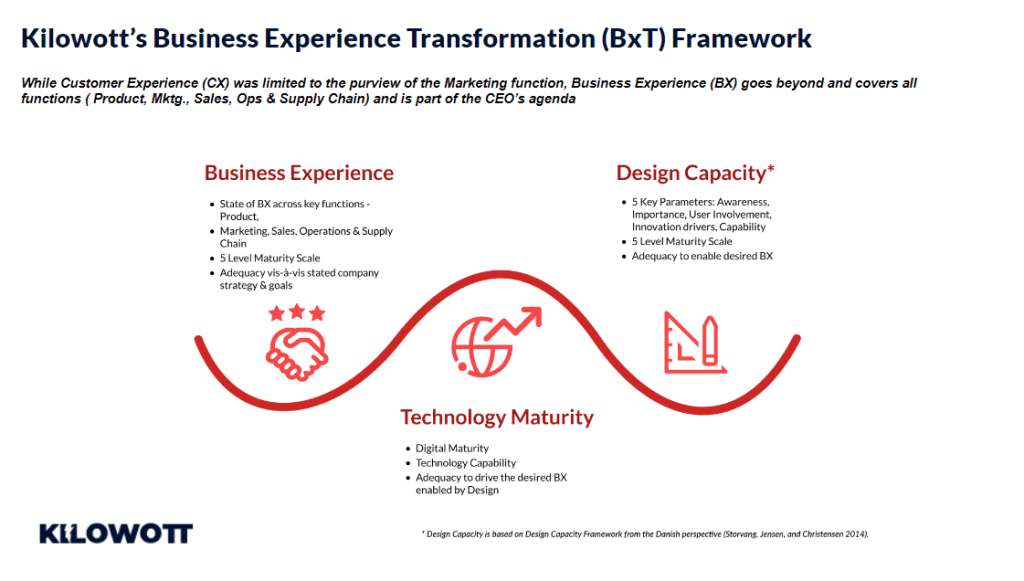 The model is intended as a tool to define current and target states of maturity; however, it is not prescriptive as to suggest a best way to achieve the target state. It provides guidance on the development of BXT.

The level to which an organization needs to be mature in each area/dimension is dependent on your own business strategy (focus of the business), business model ( business configuration/design to realize the business strategy), and operating model (capabilities to be executed against the business strategy and model).
The model can be validated at different stages, by assessing what level "As is" against the desired, "To Be" in terms of the given maturity levels across the whole organization or individually across the dimensions/pillars which make up the Organization.
It not only addresses implementing better technologies, but also addresses aligning culture, people, structure throughout the organization. based on strategy, business model, and operating model.

To decide between adopting an evolutionary or a revolutionary approach, you should start with a thorough evaluation of your operations to determine the best path forward. The evaluation process should include assessing the following considerations:
– Workload – Audit applications and software to determine their business value, criticality and where there are opportunities to modernize. Assess workloads holistically in context of the go-forward business direction.

– Architecture – Review infrastructure elements, performance and ROI to assess where newer technologies can deliver better outcomes.

– Financial – Evaluate spend to find budget burdens and ways to optimize resources to support current operations and prepare for what's next.

– Uncertainty – Weigh the potential for business interruption, as well as any related implications on business processes and organizational culture, against the goals of your legacy system modernization project. Consider the risks of preserving the legacy system in its current state, such as upkeep for out-of-support systems or those with limited support resources.

– Execution – Determine whether new skill sets, training, and processes must be taken into account when calculating modernization costs and deadlines.

– Planning – This is for system security before, during, and after modernization to avoid data loss, outages, and exposure. Organizations should confirm adherence to legislative and industry compliance regulations in the new environment in the security plan.

Need help in digital marketing strategy campaign development? Let's talk!