Mobile web apps are often faster and less expensive to develop than native mobile apps, especially if you want to support a wide range of devices. Mobile web apps are essentially mobile-optimized web pages that look like apps.
There are only a few, really genuine, purely technology-driven mobile web app development companies available for hire.
Due to the nature of the app development process, the best Android and iOS app developers can be found all over the world, from California in the United States to Europe and SouthEast Asia.

In many situations, these businesses have offices in various locations. For example, they could have a headquarters with sales and marketing in the United States and a design and development branch in India or Eastern Europe (think Ukraine, Belarus).

On the other hand, there are powerful agencies based entirely in India and Latin America, and the UK always has a healthy number of the top app developers.
This collection compiles the greatest app development companies from around the world. To save you time, we identified organizations with a solid track record and a diverse portfolio; most of the best app development companies listed here can code for iOS, Android, Windows Mobile, or go cross-platform and design a hybrid app.

We evaluated their UX/UI design and desire to experiment with new technologies such as wearables, AR, VR, Blockchain, Amazon Alexa, and conversational bots. Finally, we did not make any distinctions based on size because small studios can compete with larger enterprises on all quality parameters.
What are the top mobile app development companies on the market?

You may be wondering whether you should build an app for iOS, Android, or Windows Mobile or a cross-platform app.
It is not a trivial subject by any means, and in order to make the best decision, you must view numerous possibilities on a single list in order to compare and make an informed conclusion.
Types of Mobile App Developers
There are four primary types of app developers, with several subdivisions within each (such as specialization in a particular vertical or platform). In general, enterprise-level firms tend to be more expensive but have the most powerful and rapid methods of developing your app, whereas boutiques are more akin to little artisans, and the final group is solitary freelancers.
Enterprise (in-house): Large enterprises that often handle everything from app design to development, testing, and publication. They often have the highest budgets, and the majority of its designers and coders are employees.
Enterprise (outsource): The primary distinction between these and the previous companies is that they hire freelancers to work on your project. This gives you more options if you currently have a User Interface or coding expertise but would like something developed. It also reduces costs because app development through these organizations is often less expensive.
Boutique studios: These can be as tiny as a two-person team. They work on fewer projects and produce high levels of polish. They are also highly specialized in specific sorts of apps or industry verticals.
Freelancers: You might find one person who is ready to do everything (design, coding, testing, publishing), but the truth is that people who can do all of this well are scarce and expensive. Building an app with freelancers is not hard, but it adds a lot of work and uncertainty.
Mobile App Development Platforms
Years of strong competition culminated in a duopoly of mobile operating systems. There are currently two major well-established platforms: iOS (Apple's mobile operating system for iPhones, with several branches – the iPadOS for iPads and the watchOS for Apple Watch) and Android OS (Google's mobile operating system that runs on a variety of hardware ranging from Samsung smartphones to Xiaomi and Huawei smartphones).
There's also Windows 10 Mobile, which has less than 1% market share in the US and less than 10% in all other markets. Microsoft announced in October 2017 that the platform's active development would be discontinued. with no new software or hardware to be developed.
FAQs on Mobile Application Development
We at Kilowott get these questions asked a lot. Our responses to the most frequently asked questions regarding how to locate, select, and work with an app development firm or agency are stated below.
Q1. How much does it cost to develop an app?
It is determined by a number of factors, including the type of app and its features, as well as the developer you select. The lowest pricing point is roughly $40,000, with larger apps costing up to $125,000. Some estimates range from $200,000 to $300,000 for an Uber-like app.
Q2. How long does it take to make a web or mobile app?
In our experience, it takes between 1,000 to 2,000 hours to develop a mid complexity mobile app. Once again, this greatly depends on the type of app and your developer, but this range includes the majority of development times for medium-sized apps.
Q3. How can I find an app development company online?
Online, there are a lot of materials to choose from. You might start by searching through directories of app development companies like TheManifest, GoodFirms, and Clutch.
Q4. How to choose an mobile app development company?
When selecting your app developer, there are a number of factors to consider. Your budget is obviously the primary one, but you should also:
This is typical practise, and the majority of businesses will proudly display their portfolio of app development on their websites.

Remember that while creating apps is a talent in and of itself, developing for certain industries (like games or healthcare) can require quite specialized knowledge.

Check to check whether the developer has experience in your sector, and especially if they have experience with the platform you're targeting (iOS, Android, or Cross-platform), as well as specific mobile technologies like augmented reality, virtual reality, and the internet of things (IoT).
Q5. What platforms can be developed natively? Can these companies develop cross-platform apps?
Which devices can your selected studio develop an application for, you want to be clear up front? Do they specialize in iOS, Android, or cross-platform apps? Cross-platform apps use "generic" coding rather than platform-specific coding to function on both iOS and Android as well as other platforms. How will the apps be changed to work on different platforms? Will the website that the app links to be mobile-friendly if it has one? Consider a broad audience as possible for your app's potential users, taking into account both the demographics and the gadgets that will be utilized to access it.
Q6. What are the common app development pricing and costs?
The cost of an app varies greatly based on its complexity, whether it is only for Android or iOS, whether it is native or hybrid, and, most importantly, the developer you hire. Estimates range from $3000 to $150,000 for more complex apps created by top developers.
Q7. Does Kilowott cover every stage in the mobile development cycle?
Some studios specialize in user-interface or user-experience design only. Others handle the coding and programming, but post-launch support is viewed as an extra expense. Not all studio developers incorporate back-end (servers and software) development if your app needs it. It mostly depends on the type of app you are building, but make sure the studio you choose can guide you to businesses whose services mesh nicely with their own or can handle every stage of the app development cycle.
Q8. How can the application developed by Kilowott generate revenue?
This needs to be discussed with your selected development studio and included in your business plan. Will your app generate revenue from advertisements?

If so, it must be optimized with that end in mind.

How will your app entice users to return beyond their initial visit or initial transaction if it serves as a storefront or only serves to drive visitors to your website where the money is made?

User churn, or the small percentage of app users that continue to use an app after 30 days after downloading it, is one of the main issues app developers are currently dealing with.
Q9. How does Kilowott communicate during the development process?
Keeping the client informed of the development process' progress is a crucial component. The top studios are quite clear about this, providing frequent (and perhaps even daily) updates. Make sure the app developer you choose communicates with you frequently and in a manner you are comfortable with.
Q10. What kind of testing does Kilowott do?
A good idea becomes a streamlined app through the tedious, essential whittling process, which is somewhat of the antithesis of the question above. While not all of them will be relevant to all apps, some of them, like stress and A/B testing, will be required for yours. Ask your developer about their testing procedures, their intended use, and how they assist your app progress. Additionally, what platform they employ for monitoring the operation of third-party apps.
Q11. Is submission to app stores included?
If you know what you're doing, submitting an app to the store isn't that difficult. Apple's iTunes software store only accepts submissions from developers who have paid a subscription fee, and the Cupertino corporation has tight rules about what can and cannot be published.

The Android Google Play store has more lenient rules, but it also needs you to register and pay a charge. Finding out whether the submission fee is included in the amount you're paying is important because some developer studios charge it, while others do not.
Q12. What's the latest tech you're using?
The wonderful thing about the world of app creation is that there is always something new being invented or a ground-breaking idea being investigated, whether it be beacons, GPS, deep connection, or Wifi-Bluetooth integration. Ask your developer what innovations or technologies they are experimenting with right now if you want your app to be cutting edge and really set the bar for others that come after. The development process involves a lot of experimenting, so talking with your developers about your ideas may result in the next great thing or a standout product.
Q13. What are the benefits of hiring a Mobile App developer from one of the companies mentioned below?
The advantages of hiring mobile app developers from one of the top mobile app development companies are many. Some of them are:
Budget-Friendly
Availability of technical expertise and resources
Tuned workflow
Round-the-clock support team
Long-term relationships
Q14. Should I go for 2 Native apps — one for Android & one for iOS or should I opt for hybrid mobile app development?
If you partner with these top mobile app development companies, these app development companies suggest the best path to take for your app — depending on its features and their complexities, etc. Based on our experience as an app development company goes, you should only go with hybrid or cross-platform app development when your app isn't super complex.
This basically means features that could easily be rendered on both iOS and Android.
List of the Top Mobile App Developers
1. Miquido
Miquido transforms bold business ideas into exceptional digital products. They ideate, design, and develop data-driven digital products made to answer business challenges. They offer 360° services to smoothly guide you on your way to creating a seamless digital masterpiece.

2. Northell
Northell is a Digital Design & Custom Development Company. We build successful tech products that have a positive impact on organizations. Their team consists of middle and senior-level specialists. They provide full-cycle custom software development. Northell was founded in 2019 and has already accomplished plenty of successful projects worldwide.

3. Bilberry
As true partners to their clients, they solve problems, not tickets. Their developers, strategists, and designers are autonomous, outspoken, collaborative, and love doing the work. They've kept their team small and our organization flat on purpose: that's how they stay nimble, transparent, and human-centric. They have 40 full time employees and are headquartered in Seattle, Washington.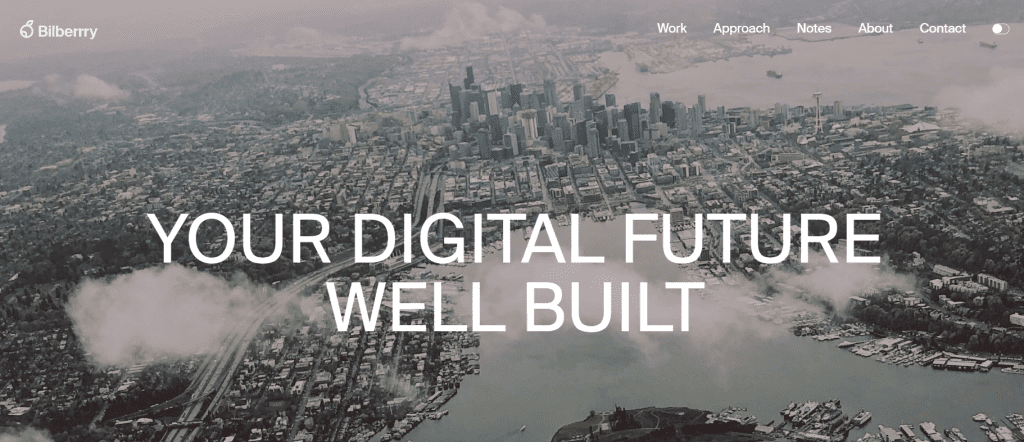 4. Eleks
Their attention to detail and quality is unmatched in the industry. They are not just a resource provider but also a key strategic technology partner ready to meet tasks of any complexity and deliver a high-quality project. They don't down tools until you're completely satisfied with our service.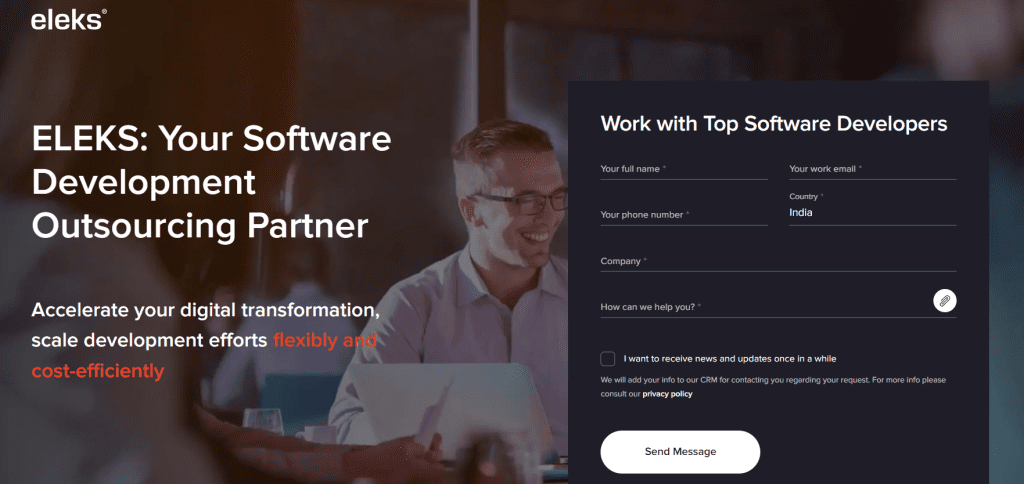 5. itransition
Their software development company delivers corporate and consumer applications based on our profound understanding of technologies and the markets they operate in. With their professional mindset, they look beyond technology to offer viable solutions for your particular business context.

6. Kilowott
Kilowott is a boutique business experience transformation firm accelerating growth for businesses of all sizes across industries by reimagining the way businesses operate and crafting digital experiences with the user at the core.
Kilowott's design heritage coupled with their digital transformation expertise and deep focus on user experience helps them stand apart from the crowd. All their business experience transformation engagements focus on enhanced digital customer experience while driving up business profitability.
Kilowott's Android application developers have extensive experience in developing solid, scalable Android applications. Kilowott develops custom Android software for a variety of industries throughout the world. They assist you in developing a solution that showcases your authentic voice in a store with millions of apps.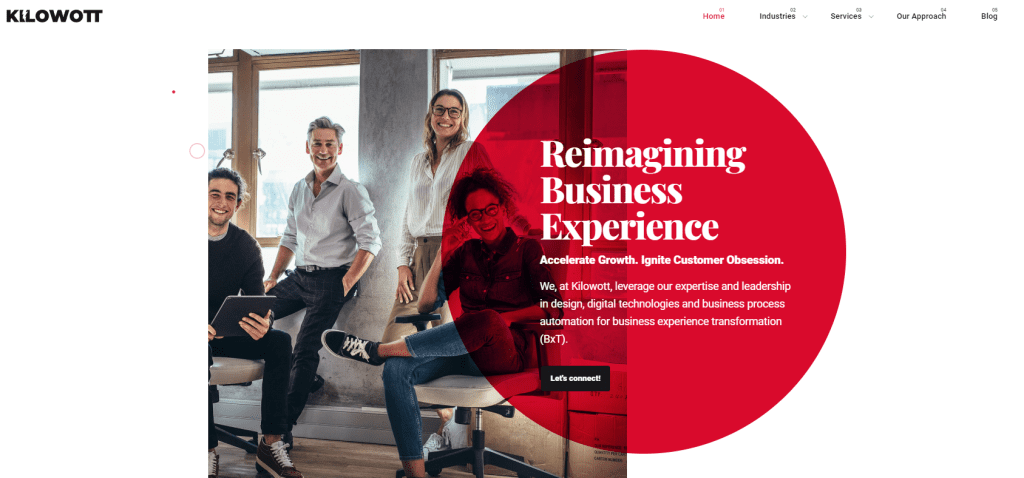 7. Baunfire
They are a creative team of designers, developers, strategists, and producers building elevated websites in the heart of Silicon Valley. They pride ourselves on pushing the boundaries of digital design and development. They combine relevant trends and best practices to build platforms with longevity.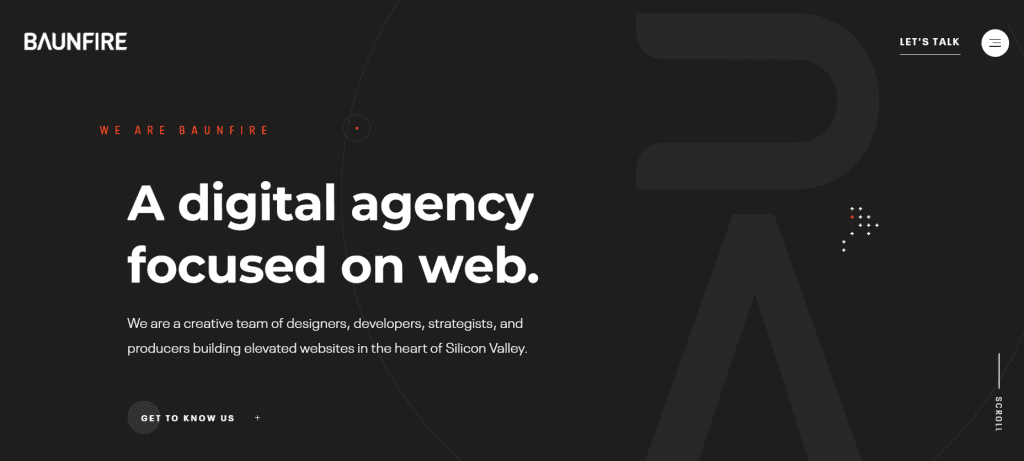 8. Surf
They strive to gain both technical and product expertise in retail, foodtech, and banking, but what they value most is people. They know how to deliver products that millions of people would enjoy using.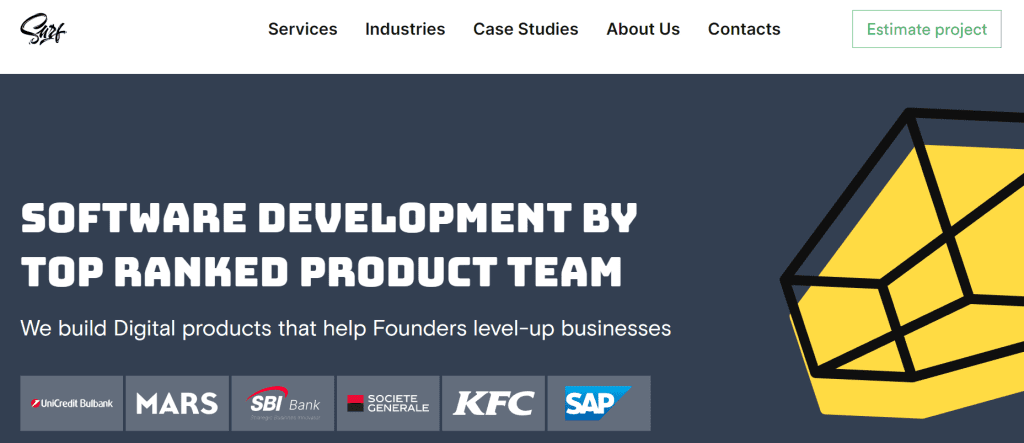 9. Netcraft
They are a Google rated developer that offers professional services at affordable rates. They are a team that embraces our client projects as if they were our own. They have the experience and expertise to complete the full cycle of project development. This includes planning, design, coding (app and back-end server) ongoing support and marketing.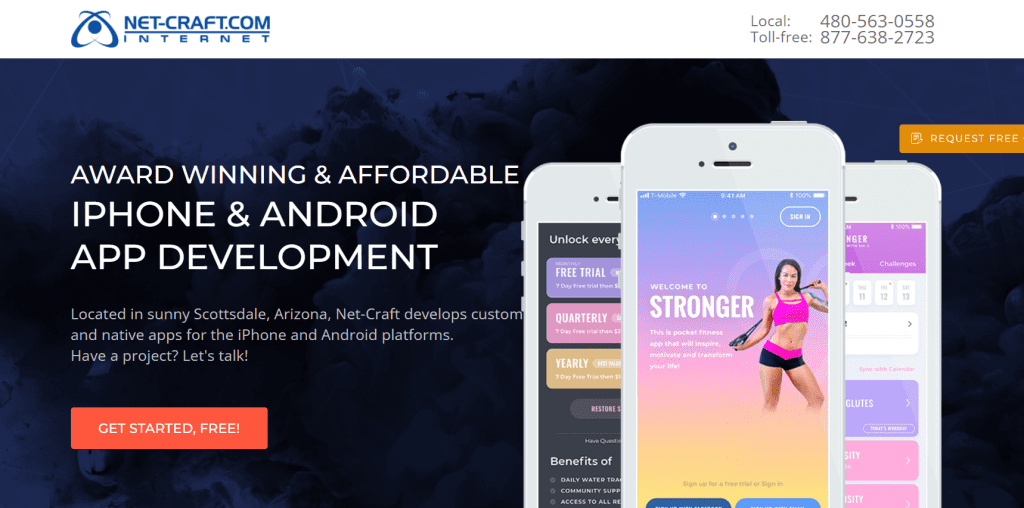 10. Brocoders
Brocoders is a technical partner for building web-based and mobile app products. Should they be scaled-up or developed from scratch – we will manage with it. Besides programming, their service includes user experience, graphic design and project management consultancies.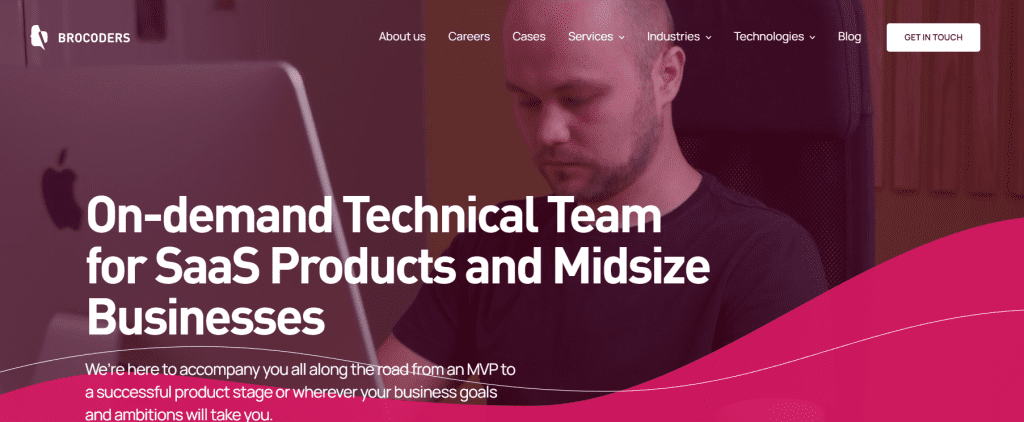 As a business owner, it's essential that you're always making strides to take your company to the next level. Still confused as to how to get your mobile cloudified or modernized?