The process of creating an app for mobile devices with the intention of assisting users in efficiently managing their medical issues, fitness objectives, hospital visits, or insurance claims is known as healthcare app development.

This covers telemedicine, reviewing lab results, managing prescriptions and appointments, and more. The demand for mHealth apps will only grow as technology develops.
The term "mHealth" (mobile health) describes the application of technology, including smartphones, to the medical field.

Mobile applications are primarily used to educate patients and healthcare professionals about preventative health care practices, treatment assistance, tracking progress, and aiding in clinical trials.
By 2020, the market for developing mobile applications for the healthcare industry is anticipated to increase and reach a value of over $59 billion.
Patients adore healthcare apps from a consumer perspective. In fact, 71% of patients indicated it would be preferable if their doctors used a mobile app for healthcare.
The same is true for the supplier side. With 50% of medical school students reporting daily use of their favorite app, the use of medical applications has increased significantly in recent years.
Although mobile technologies have value, are healthcare organizations ready to include them into their digital transformation initiatives? The solution is not simple or obvious.

Building the first mobile healthcare application is not always as straightforward as anticipated.
In this post, you will find answers to the most commonly asked questions about mhealth apps, health apps, and wellness apps.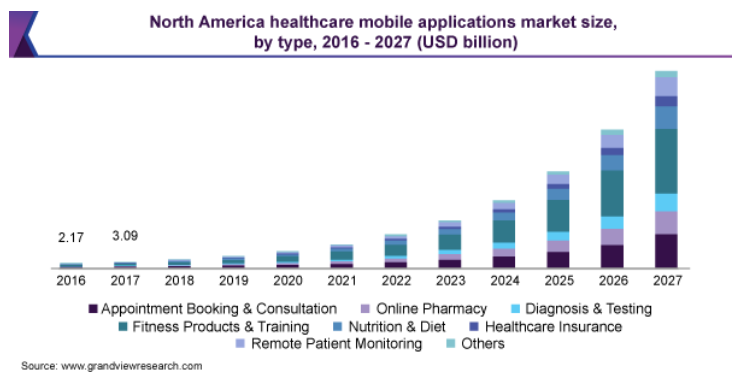 What is a healthcare app or a wellness app?
Wellness apps, which encourage a healthy lifestyle and range from specialist activity tracking, sleep analysis, diet management, mindfulness apps to general wellness monitoring solutions, are designed for mobile platforms.

Wellness applications use engagement strategies to encourage users to adopt healthy habits and track their behavioral, psychological, and physical health.
What does a healthcare or wellness app do?
Particularly during COVID-19, when most of us aren't physically visiting gyms, therapist offices, or yoga studios, health and wellness apps are growing in popularity.

Apps are a terrific way to be intellectually and physically active when the healthiest thing to do is to stay at home. What really is a wellness app, then?

On your tablet, PC, smartphone, or other device, we lay out the specifics of these mobile apps that provide health-related services whenever and wherever you need them!

What then prevents you from uninstalling the app a week after downloading it and what keeps you intrigued?
---
Related Reading: The Best Android App Development Companies in The World
---
What do we like about healthcare apps?
Keeps you playing: Many of the finest apps have incentives that keep you interested and hoping to win! The greatest wellness apps keep you engaged with challenges and cooperative activities that you may play.
– Reliable information – The information offered by licensed wellness professionals must be accurate for great meditation, anxiety, mental health, and fitness applications to be effective. Verify that the software you're using is backed by expert expertise!
– Practical suggestions – You won't always be able to make the changes you want to make no matter how much information you have. You're most likely to develop new routines and habits with the aid of wellness apps that provide advice with specific instructions and clearly outlined next actions.
– Notifications you need – Some health apps may start alerting you more frequently than your best friend texts you! While reminders are fantastic, it is preferable to utilize an app that only sends out useful notifications. Additionally, you're more likely to appreciate an app if it's free of pop-ups and advertisements.
– Easily navigable – You're not likely to use an app again if you have to spend 10 minutes searching for the information you need. The greatest apps are simple to use and navigate. Extra points for having good aesthetics!
– Builds upon itself – A top-notch health app will evolve alongside you. If you're looking for a meditation app, make sure it will continue to serve your needs as you advance and isn't simply for beginners. Will your nutrition app still help you once you have a better understanding of your weekly diet? Does the yoga software you use evolve along with you? Look, seek an app that can!
– Customer service – No matter how user-friendly a health app is, there will still be times when you need to speak with customer service about some issue. The top health applications allow you simple in-app connection with outstanding customer service personnel.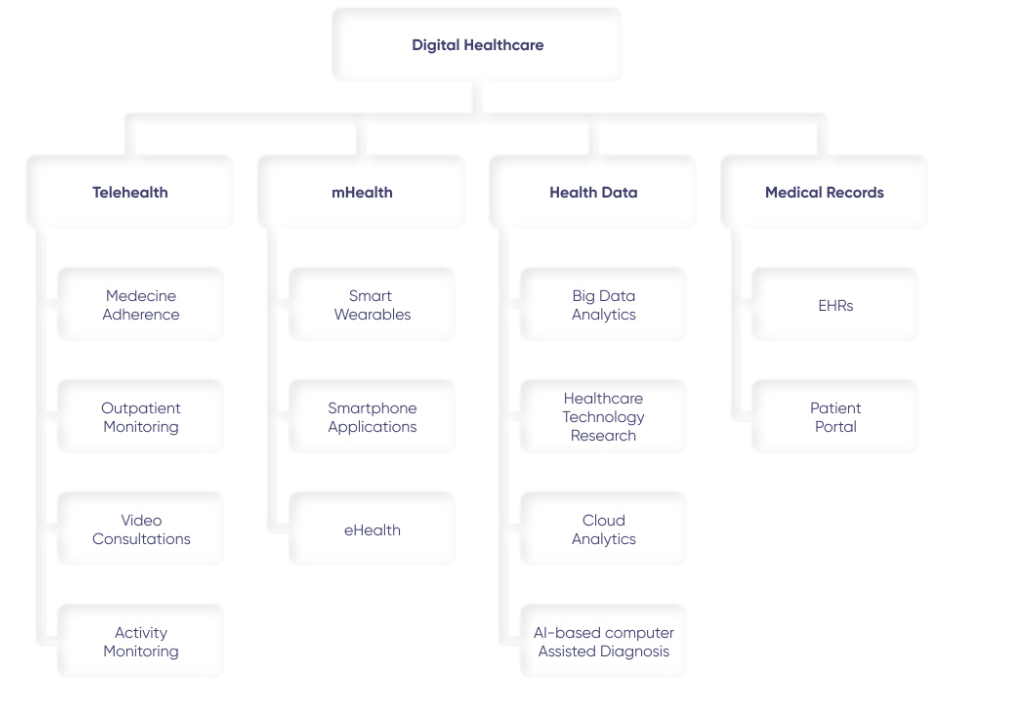 Is wellness app development effective? or is mobile healthcare app development effective?
First, our study demonstrates that users of mHealth devices and applications can become more independent, motivated, and interested in self-regulating their health behavior as well as more engaged and consistent in their lifestyle and wellness behavior, which improves health outcomes.

This suggests that in order to promote the use of these gadgets, it would be beneficial for the government, commercial insurance, and tech companies to subsidize their costs.

In fact, Apple has lately worked with Medicare plan providers to subsidize its senior watches.
Second, personalisation has two disadvantages.

On the one hand, it causes certain patients to engage less with wearable technology and to participate less in healthy activities.

On the other side, personalisation also makes it easier for patients to use telemedicine more frequently, which reduces medical costs.

When developing their communication methods, practitioners in the healthcare ecosystem would benefit from keeping these conflicting effects in mind. For instance, they may study the impact of personalisation on patients' preferences for in-person vs. telehealth consultations by running experiments or conducting market research on their local demographics.

They would be able to forecast the net benefit of personalisation and modify the frequency of personalized communications as necessary by asking patients for feedback on their preferences.
Third, health insurance firms may be able to customize premiums thanks to mHealth devices and applications. Customers who make an effort to exercise more frequently, eat healthier, and sleep more soundly may be rewarded with cheaper insurance costs.

This would be akin to what some auto insurance firms already do, which is to install tracking devices in automobiles to monitor driving habits before offering discounts to better drivers.
Nevertheless, there are several potential issues or difficulties with such a plan. Patients would need to consent in order to grant health insurance firms access to their data under HIPAA's privacy requirements. Furthermore, incentives based on healthy eating patterns and lifestyles run the risk of favoring the wealthy at the expense of the underprivileged, which is unethical.

However, a greater understanding of how these apps and technologies alter behavior can aid health care organizations in planning how to provide better treatment for their patients.
---
Related Reading: The Best Educational App Development Companies in The World
---
What is the #1 healthcare and fitness app? or What is the best workout app for free? or What is the best workout app for beginners?
You could believe that using your smartphone simply for messaging, making calls, or browsing social media is all it is good for. However, this small gadget is also a great way to keep track of, manage, and progress toward your fitness objectives.

You may download specialized fitness apps to your phone, tablet, or other electronic device. While some apps operate well in their free versions, others demand a monthly fee of a few dollars to access premium features. However, they all seek to offer direction, inspiration, and accountability.
We looked at fitness applications that provide both a free and a premium edition, as well as in-app subscription and purchase options.

The best fitness apps typically offer flexible subscription plans, a variety of workout options, and the option to create a programme that is tailored specifically to your requirements. Here are the top fitness apps in our opinion.
1. MyFitnessPal
MyFitnessPal is our pick for best overall because of its robust food and activity database, easy-to-use logging and tracking tool, a library of workouts, and ability to connect to several apps.
Pros
– Includes a database of over 11 million foods
– Integrates with other apps and devices
– Logs both food intake and physical activity
– Offers customization based on health goals
– Over 350 workouts provided
– Restaurant menu logging is available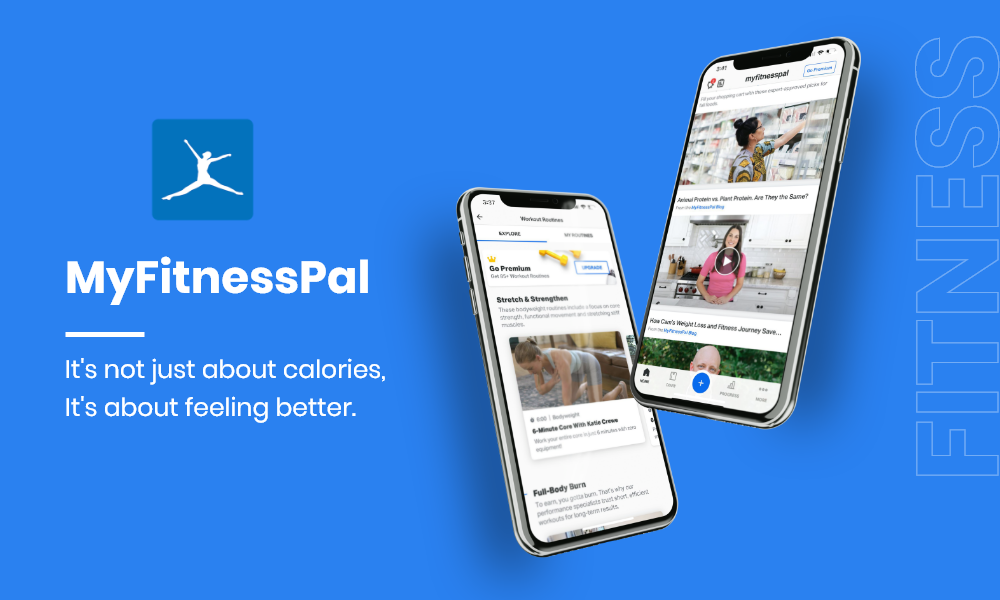 2. Daily Workouts Fitness Trainer
The Daily Workouts Fitness Trainer gives budget-conscious fitness fans a simple way to access workout routines and hundreds of exercises.
Pros
– Developed by a certified trainer
– Home-based workouts provided
– No cost for basic service
– Suitable for beginners
– Varied workout lengths available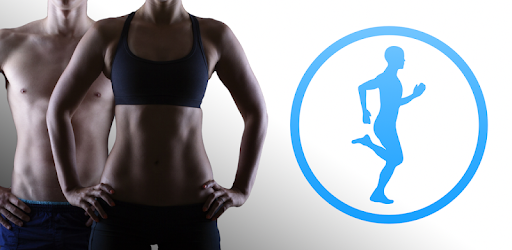 3. Zones for Training
Apple Watch fans looking to step-up their heart rate monitoring will appreciate the intricate details and metrics the Zones for Training app provides.
Pros
– Appeals to experienced exercisers
– Fat-burning feedback provided
– Integrates well with Apple watch
– Heart rate tracking provided for cardio and strength-training workouts
– No fees required for the basic service
4. Fooducate
Fooducate monitors nutrition and provides tips and information about nutrition and losing weight.
Pros
– Barcode-scanner makes nutrition data input easy
– Community-based support is available
– Macronutrient ratios are displayed in simple charts
– Offers recipes and diet tips
– Provides easy-to-understand food grade system
5. Glo
Yogis of all levels will find classes, routines, and tips to improve their yoga practice with the Glo app.
Pros
– Appeals to beginners to advanced yogis
– Daily classes and updates available
– Integrates with Apple watch
– Wifi not required
– Well-respected base of teachers
6. Sworkit
Sworkit gives beginners an easy way to find workouts, learn new exercises, set goals, and create a regular fitness routine.
Pros
– Cardio, strength, yoga and stretching workouts are customizable
– Flexible focus based on personalized goals
– Integrates with other apps and devices
– No gym or equipment required
– Personalized trainers are available for one-on-one coaching
– Suitable for beginner-level through advanced users
---
Related Reading: The Best Wearable App Development Companies in The World
---
7. JEFIT Workout Planner Gym Log
JEFIT gives you all the weight lifting tips and tools you need along with an active support community.
Pros
– Allows you to create a customizable workout
– Body stat tracking can be shared among users
– Evidence-based library of exercises provided
– Peer-support is available through substantial community of subscribers
– Post-workout analytics are provided
8. Headspace
We chose Headspace for the guided meditations, expert instruction, and varied programs available for all ages, levels, and needs.
Pros
– Beginner guidance for meditation is provided
– Can be used to address a range of health and wellness issues
– Helps to reduce daily stress
– Promotes evidence-based mindfulness practices
– Some food, cooking, weight loss guidance available
9. PEAR Personal Fitness Coach
PEAR is perfect for those days when you need a personal trainer, but don't have access to one. They offer real-time training and a substantial library of workouts.
Pros
– Integrates with a music library
– Provides real-time personal training from high-level coaches
– Substantial library of on-demand workouts includes wide range of interests (running, cycling, yoga, strength)
– Tracking technology allows for workout recommendations
10. The 7 Minute Workout
We like the simple interface and basic workouts you get with the 7 Minute Workout app.
Pros
– Beginner-friendly workouts available
– Convenient for those with busy schedules
– No equipment required
Some more examples of fitness or medical apps are,
Nike Training Club
Fitness aficionados and gym goers, both amateur and professional, have grown fond of this app. It debuted more than ten years ago.

Daily Yoga
Yoga originally consisted of a variety of spiritual exercises designed to improve both the body and the mind. It includes deep breathing exercises, bodily stretches, and meditation to promote both physical and mental development.

Fitbit
Fitbit is a leader in the healthcare activity tracking apps space. The app connects to physical trackers and smartwatches that measure a user's heart rate, workout, sleep, nutrition, and other activity.

Headspace
Headspace aims to help users meditate better and sleep more restfully. It relies on clinical research to draw up intuitively guided mindfulness meditation plans for users.

Doctor on Demand
This is an app that lets users schedule live video calls with certified medical professionals, including physicians and psychologists.

Medscape
The other apps on this list have been consumer apps mainly. Medscape is a unique medical app for physicians, medical practitioners, and other healthcare professionals that help them to discharge their services better to patients.
Ovia Health
Ovia Health boasts of a suite of specialized apps that cater to women and family health. It also covers maternity and parental wellbeing, as well as children's health.
Medisafe
Medisafe is known for its pill reminder and medication tracker app, which helps people who are on drugs to take charge of their health.
WebMD
The WebMD telemedicine app helps users to check their symptoms, remember to take their medicine, find doctors and specialists around them, and find information about various medical conditions.
---
Related Reading: The Best Custom Software Development Companies in The World
---
Are wellness apps development profitable?
The global mHealth market was estimated to be worth USD 45.7 billion in 2020 by Grand View Research, and from 2021 to 2028, it is projected to expand at a CAGR of 17.6%.

The industry is expanding, and there is a high demand for healthcare mobile app development.

Key drivers of this market growth include the increasing use of smartphones and internet connectivity, as well as supportive government initiatives.

Additionally anticipated market growth drivers include rising demand for preventative healthcare and more investment for mHealth companies. Another significant factor influencing the market growth is the growing use of mobile health technology by patients, doctors, and other healthcare professionals.
An enormous amount of innovation work has been done as a result of the global pandemic by businesses, governments, institutions, and people. Robots are delivering parcels, sterilizing cities, and preparing hospital food.

Smart technologies are keeping an eye on patients' well-being and gathering important health information. Collaboration between humans and machines is becoming important as a tool for virus researchers. Organizations must, however, think strategically in this race to speed up innovation.
According to a survey conducted last year, 1 in 5 Americans use digital health goods, such as apps and fitness monitors.

However, COVID-19 kept individuals at home, leaving them with little options for accessing healthcare and engaging in physical activity. As a result, a large number of people used a mHealth app to keep themselves healthy.
So, it stands to reason that the use of mobile health apps must have increased as well. India, Italy, Indonesia, China, and other nations may all be shown to be following this expanding pattern.

When you create a healthcare application that meets the crucial requirements of users, your business can profit from the market as well.
People may not use health-related applications because they don't necessarily have a condition.

Lifestyle and activity tracking are the most frequent reasons why a business might create a healthcare application.

Learn how to design a healthcare app. The most well-known providers develop a healthcare app with the knowledge that most users only use it to track their progress in some way and achieve their wellness objectives.
In light of this, it is not unexpected that a survey published earlier this year predicted that the market for mobile health apps will reach $149.3 billion in value by 2028, growing at a compound annual growth rate (CAGR) of 17.7%. Continue reading to learn how you can contribute to this development and how to create a mobile health application.
---
Related Reading: The Best React Native Development Companies in The World
---
Which are the different types of medical applications?
Learning from the most well-known ones and what characteristics set them apart can help you understand how to build a health app.
Lifestyle Tracking Apps
By monitoring significant metrics like heart rate, sleep, physical activity, calorie intake, and other behaviors like women's menstrual cycles, these apps are made to examine the health and fitness of patients. These include Map My Fitness, Google Fit, Sleep as Android, and more.
Fitness Apps
For those who desire to be more physically active, fitness apps offer both general and individualized coaching and support. Users can improve their fitness by participating in exercises like jogging, swimming, riding, and the like.

In particular for those without access to gym equipment, some applications also provide tailored workout sessions. You've probably seen a lot of these "7-minute workout" apps in different app stores. Apps for yoga are included in this group. Sworkit, Nike Training Club, and other well-known fitness applications are some examples.
Health Counseling Apps
You may schedule counseling appointments with medical professionals including doctors, therapists, and experts using several applications. In situations where you don't have rapid access to a doctor, these applications are fantastic for non-emergency conditions and diagnostics.

It is usually advised to go to a hospital immediately away or dial an official emergency number for situations requiring immediate attention. However, you can contact medical professionals for routine counseling through chat or video call using various apps, such as MDLIVE, Doctor on Demand, and Talkspace.
Why do we need healthcare app development?
Almost all areas of our lives now comfortably incorporate digital technologies. Numerous mobile healthcare apps are available, which is a result of the advantages of healthcare mobile app development.

These apps make it easier for doctors and medical professionals to monitor patients' health and to accomplish their jobs. This essay will outline these apps' advantages for the industry and raise the curtain on how they are created.

We'll go over the justifications for developing such applications and a checklist for selecting a software vendor to handle all of the technical aspects of product delivery. We will also briefly discuss the typical price of developing an app.
For every healthcare executive out there interested in developing their first mobile app, we put together this guide covering the top 9 healthcare app development considerations you should be aware of before you sign the dotted line to build your first app.
1. Define a robust digital medical app strategy
Two marketing experts examining the mobile app's marketing plan
Specify the kind of mobile app for healthcare you're creating. Then why!
You must first specify the precise objective for your first health app before doing anything else. Don't try to handle everything. Consider who the app is meant for as well.
Here are the qualities shared by all outstanding mobile applications today. A link is established between a mobile app and a particular use case in the user's head.

For example, we use Facebook to unwind and check in on friends, Linkedin to read business news and network updates, Epocrates to find out about medications, etc.
Regardless of the app you create, be sure to start with providing a response. This app will be regularly used by my ideal client to complete one task.
These apps are made to communicate and give medical information between patients and doctors. They can also be used to schedule and manage doctor's appointments.
With Medibabble, medical professionals and support staff may communicate with non-English speaking patients. It has the patient's medical history pre-loaded and includes straightforward exam questions in popular languages like French, Spanish, Russian, and German.
Each phrase is reviewed for accuracy by doctors who speak the language well so that patients who are not native speakers can receive the proper treatment.
Lybrate is an additional information management tool that enables medical professionals to track payments, add patients to appointment lists, and document treatments given. The dashboard also provides physicians with up-to-date statistics on the tasks accomplished by support staff, allowing them to monitor the effectiveness of their team.
In the past five years, telemedicine services, including patient monitoring, have grown significantly. Hundreds of millions of people worldwide are in need of value, thus a wide range of healthcare manufacturers and software companies have hurried to fill this increasingly crowded market.
HeartGuide, for instance, is a wearable blood pressure monitor (full disclosure, Digital Authority Partners worked on this project). The device can monitor cardiac statistics and let a patient know how their actions affect their heart health. After that, it synchronizes with the HeartAdvisor smartphone app and Alexa skill to give the user real-time health insights.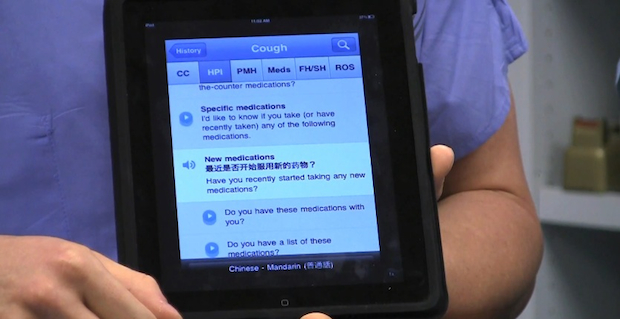 Common patient monitoring applications also keep track of the user's position so that they can get help as soon as they need it.
In a survey of professors, residents, and students at medical schools, 75%, 95%, and 55% of respondents, respectively, agreed that having mobile access to course materials enhanced each participant's performance.
Examples include drug reference applications that can instruct a patient about the benefits and cons of a particular medication and medical calculators that can determine how frequently a drug needs to be taken.
Epocrates, a mobile healthcare app, gives consumers access to current, secure therapeutic information whenever they need it (full disclosure, Digital Authority Partners worked on Epocrates).

Additionally, it can be used to monitor for potentially dangerous interactions with up to 30 different drugs at once and act as a platform for communication across care teams.
Pepid is another wonderful illustration of outstanding medical software that helps ER doctors make clinical decisions. Its "Symptom Checker" feature can help identify patients more rapidly by making suggestions about potential illnesses based on symptoms, a patient's physical examination, and lab results.
Make sure the problem your new healthcare app is aiming to solve is crystal apparent. Woman connected into a big light bulb thinking about a cure.
Before creating a new healthcare app for your business, make sure there is a problem that clients actually want or need to be solved.
For instance, only 11% of health systems offer their patients access to proprietary apps that include at least one of the three functions that customers most frequently request: electronic prescription refill requests, access to medical records, and the ability to schedule, modify, and cancel appointments.
Make sure your app handles at least one of the aforementioned difficulties if you want to develop it while working at a hospital.
Another problem that your app could want to solve is the provision of healthcare to people who reside in rural areas.

The Rural Health Information Hub provides evidence of how travel time and cost can be dramatically impacted by distance. Many of the details will be accessible via a smartphone app.
– Make sure you study your competitors and outperform them
Once you've decided what problem your new healthcare app will try to solve, look at your market rivals who may provide related or complimentary solutions. Your app may profit or suffer from competition.
Don't make an app solely for the sake of making one. Whatever you build, make sure it has applications in the real world and that your ideal target audience members can use it and profit from it the moment it goes online.
Competition is a sign that a market exists for the items. On the other hand, the more firms there are that compete in the same industry, the harder it will be to get your brand noticed.
However, until you thoroughly analyze what your competitors are doing, you cannot design a superb healthcare mobile app. Search for words related to your app idea on Google. Think about the keywords that your target market might type in.
– Define upfront how you plan to monetize the app
The most popular games in the App or Play store all have one thing in common: you can download them for nothing. Instead, they make money via advertising and in-app purchases.
To escape the snare of charging for app downloads, the same approach must be used. In reality, less and less apps (5.76%) are paid for every quarter.
The most common method of monetization, particularly in the healthcare sector, is subscriptions. If you have developed a good health app that collects data and provides health advice, suggestions, and techniques, this is the way to go.
However, in general, the only thing we suggest you stay away from are paid apps. They do it the worst. Give a free trial even if you want to charge all users for your app because most people like to "try out" new apps before buying them. Give users a month to download and utilize your healthcare app for free before charging them.
– Determine the omni-channel strategy for your medical app
Which device—a tablet or a mobile phone—will your healthcare app perform best? Will it be developed for iOS, Android, or both?
Think about the environment you are creating. Will you both have a website and an app? Can Siri or the Google Assistant voice-activate it? Would using a camera facilitate face-to-face interactions?
In a nutshell, digital users don't interact with a company through just one channel because we live in an omni-channel environment. Therefore, you must consider in advance the ideal combination of touch points for your app.
– Build an MVP healthcare mobile app and test it
Drawing in chalk of four light bulbs: three smaller ones, a larger one, and the words "Minimum Viable Product" underneath.
The first thought that comes to mind while developing a mobile app is to create the best app currently available. This, however, shouldn't be the case. Years may pass before the ideal healthcare mobile app is developed.
Try not to complete the app's development in a single day. Create a Minimum Viable Product (MVP) instead, then iterate on it. This is due to a number of factors.
2. Build an app that is outcome-focused
An organization developed an app that uses the blue light emitted from a smartphone's screen to treat acne. At a low cost of $1.99, it received more than 10,000 downloads from the iTunes and Google Play shops. The software was promptly taken down from app stores once the Federal Trade Commission (FTC) assumed control.
Why? due to the lack of evidence that the blue light genuinely works to treat acne. Your app's output must be credible and realistic when you design it.
Applications for mobile healthcare should increase the precision of diagnoses and treatment recommendations while saving doctors and other healthcare professionals time and money.
Patient apps must most crucially offer accurate and pertinent information.
At the end of the day, you need to create products that live up to the standards you have established for them. And the more effective you get at emphasizing the outcome you want to change, the better it will be for your business and your clients.
3. Ensure you understand and abide by healthcare regulations
One of the most heavily regulated sectors in the US is healthcare. If your software violates any rules, it could be permanently withdrawn from the market, shut down, punished by the FDA, or even subject you to legal action from customers.
4. Validate the idea with both healthcare professionals & patients
Once your app complies with target market requirements, laws, and industry standards, you should test it in focus groups and surveys with the users who will really use it.
Consider how your app responds to the inquiries from step 1:
– Does the software address a specific, real-world issue?
– How serious is the issue?
– Would people be receptive to paying for your app?

At this point, it doesn't matter if doctors or patients enjoy your app. Instead, you need to learn if they'll actually use it.
5. Build an amazing digital experience
Modern consumers need a fantastic user experience, but the healthcare sector has always lacked the resources to implement an ideal digital strategy.
According to a recent Accenture survey, even though 66 of the top 100 hospitals in the United States provide patients with mobile health apps, only 2% of patients actually use them.
By working with a top-notch digital strategy and mobile app development company, you may create a fantastic health app. Avoid attempting to make it at home.
Finding the ideal healthcare mobile app development solution requires using the following advice.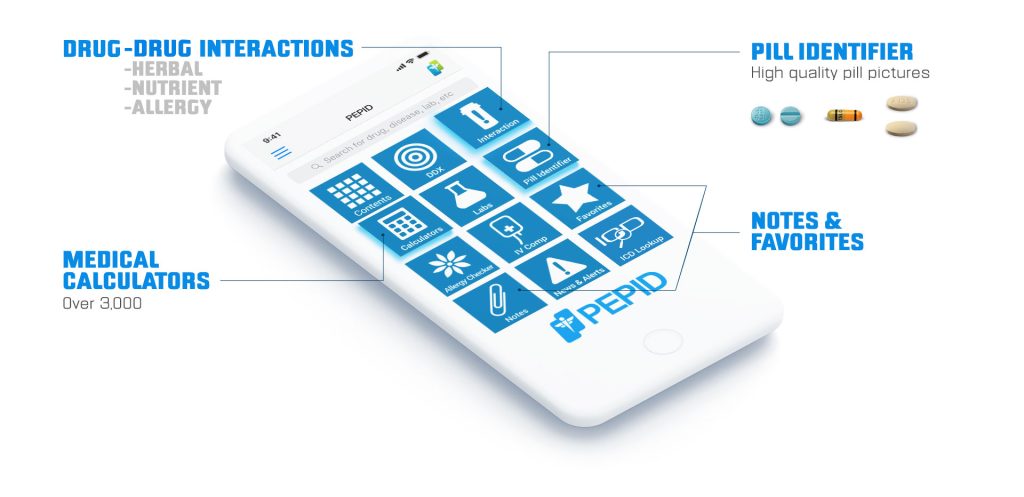 6. Build apps that can be integrated within the healthcare ecosystem
Connecting to EMRs and EHRs is a requirement for all mHealth apps.
The Office of the National Coordinator for Health Information Technology provided the definitions below for your reference.
7. Stay ahead of the curve with next-gen technologies in healthcare
The fact that the US healthcare system's current legacy systems cannot keep up with the yearly pace of technological innovation is one of its main problems.
You must make sure that your healthcare mobile app can eventually integrate new tech stocks as part of the development process.
Health care and artificial intelligence
Healthcare AI is huge. Also, we've written extensively about the subject in previous articles (here, here and here). And this post will provide you with a fantastic summary of the coolest businesses using artificial intelligence to transform the healthcare sector.
In a recent Entrepreneur piece, Toby Nwazor noted with skill that Artificial Intelligence (AI) is quickly becoming a standard technology in the healthcare industry.

We are no longer debating whether artificial intelligence (AI) will revolutionize healthcare, but rather how swiftly businesses in the health sector and the pharmaceutical industry are keeping up with the times. Examples include digital consultations, individualized medicine, and robot surgeons.
Neural networks are one specific area of AI that is beneficial for the healthcare sector. Instead of being explicitly designed, neural networks are taught and do their own learning. They are already utilized in the process of finding new drugs and in the detection of cancer cells in the body.
In order to enable users to self-diagnose and recommend therapies without the help of a doctor, healthcare apps may incorporate neural networks in the future.
Blockchain technology in healthcare
The most well-known application of blockchain technology is in cryptocurrencies. The blockchain is an irreproachable digital database of economic transactions, according to Don & Alex Tapscott, and it can be configured to record not only financial transactions but almost everything of value.
The blockchain is extremely safe and unchangeable, or tamperproof. It could be helpful for enhancing the security of patient data on healthcare apps because of these characteristics.
Virtual reality comes to healthcare
Virtual reality (VR) immerses the user inside an experience by simulating a real-world environment on a computer. 55% of doctors want to use virtual reality to learn about new therapies.

In order to relieve stress and treat mental diseases like anxiety and depression, VR may be included into an app that would transport the user to a relaxing location.
Check out this fantastic interview I had with David Badri to learn more about how Johnson & Johnson is using virtual reality to assist doctors in performing their duties more effectively.
Internet of Things & Healthcare
Continuous patient data can be obtained from the Internet of Things (IoT) and evaluated to raise the standard of treatment. These data are synced to health apps by items like the HeartGuide and the Apple Watch.
The development of mobile healthcare apps may also include support for voice communication devices like Google Home or Amazon's Alexa. They might be able to support medical study compliance or assist patients in choosing when to take their prescription.
Immersive 3D video
Medical training films are something that 70% of doctors are interested in. In addition, 46% of people who have been given a chronic illness want to watch videos to learn more about it and how to treat it.
8. Leverage mobile app analytics to measure and improve the overall UX of your healthcare mobile app
Mobile app analytics must be used by companies involved in the creation of healthcare mobile apps to continuously improve their digital goods.
According to 59% of US consumers, the healthcare system must provide the same degree of customer service and user experience as businesses like Amazon. Bad user experiences are intolerable because 71% of app users churn after 90 days. All industries share this.
Here are two strategies to boost client loyalty and enhance user experience.
Testing A/B
Healthcare product teams can utilize A/B testing to compare the efficacy of various user experiences in accomplishing a given business objective. Continuous A/B testing results in significantly better key performance indicators and user experiences.
Analytics for mobile apps
Analytics for mobile apps are used to track user activity, identify their weak points, and draw in new users. Invest in a solution that will enable you to comprehend client reactions to the experience better.
For instance, Mixpanel's technology can determine whether users are returning after the app has added or improved its features. The information gained via retention helps a product become stickier over time.
As an alternative, Amplitude pinpoints crucial sales and marketing funnel drop-off points in product routes.
9. Define how you will market and gain adoption of your app
You had the idea and finished creating the healthcare mobile app. You must now achieve genuine user adoption. Keep in mind that you should allocate at least 30–35% of your overall budget for marketing.
Consider the proverb, "Did it make a sound if a tree fell in the woods and nobody heard it?" In the end, you want your app to "make a noise" by getting users to use it and talk about it.
Determine a marketing approach to encourage adoption based on your target market. Compared to B2C firms, B2B companies selling to hospitals and medical device makers would need distinct strategies.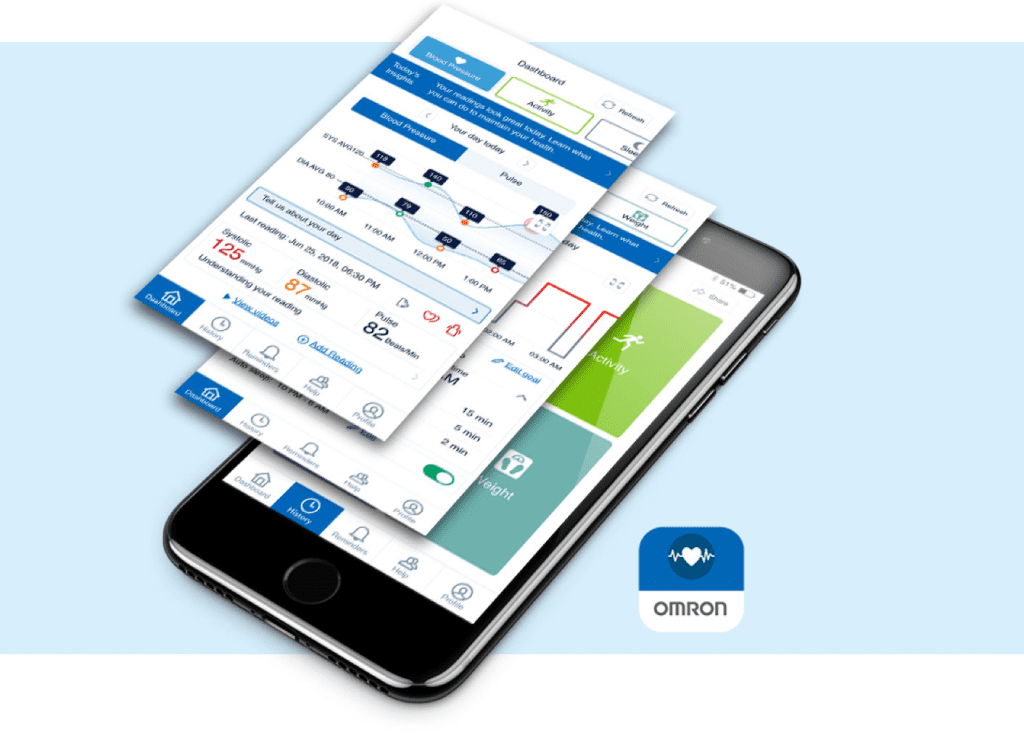 How to build a successful healthcare or wellness app?
Building a health application may need a number of capabilities, even live video conferencing, depending on the function and application. However, certain of these app features—those that have been covered here—are essential in figuring out how to build a health app.
User Profile
Setting up and managing a user's health profile should be possible, as well as limiting the data and information the app may access. The majority of developers who create medical applications enlist users' basic data at sign-up, including name, contact details, age, height, and weight. Through the application of artificial intelligence, this profile is sometimes leveraged to offer a customized experience.
Dashboard
Without a dashboard, healthcare software would leave users perplexed. To give users a summary of their medical records, a dashboard is needed. It could also appear as an activity feed, though this is more typical of fitness apps. For users, the dashboard acts as a visual record of their health and activity summaries for the most crucial health variables.
Chat and Messaging
Chat and messaging tools are necessary for medical mobile apps since they facilitate patient and doctor contact. However, in situations where patient-doctor interaction is not necessary, this capability might potentially be useful.
Other types of mobile medical apps can incorporate messaging and chat tools to assist users connect with other members of different support groups and encourage one another to reach their health objectives.
Notification and Reminders
Always keep in mind that healthcare apps are participatory, not passive, when developing them. In other words, they impose certain demands on consumers based on recommendations made by apps. As a result, app reminders might be useful for reminding users to use the app to meet their health and fitness needs.
Cloud Integration
Making a medical application is never an easy task. There will undoubtedly be difficulties for you. This section outlines some of those difficulties as well as solutions.
Security and privacy
Malicious cyberattacks have caused countless strikes on the healthcare sector. Furthermore, mobile health apps are frequently accused of using APIs to expose sensitive attacks.

At least 30 of the most popular health apps are vulnerable to API assaults that could reveal sensitive patient data, according to a research released earlier this year.
Secure Payment Processing
Unless your app is completely free, you need a secure payment processing feature that conceals crucial client data. Payment processing should be swift, smooth, and simple for a better user experience.
Analytics Integration
This is essential so that you can gather sufficient data to improve the performance of your app. Always obtain users' consent before collecting or disclosing any information about them.

Private medical information is one type of information that should only be shared with those you can trust. Each and every health app, such as Google Fit, iOS Health, Samsung Health, and others, collects and uses personal data.
Other elements that are not essential but can still be required, depending on how you want to design a medical app, include:
– Wearable device integration
– Goal setting
– Social sharing integration
– Gamification
– Video tutorials
– Appointment management etc
What are some challenges in healthcare app development?
How to make a medical app is never a straightforward process. You will definitely encounter challenges. This section lists some of those challenges as well as steps to overcome them.
Security and Privacy
Malicious cyberattacks have caused countless strikes on the healthcare sector. Furthermore, mobile health apps are frequently accused of using APIs to expose sensitive attacks. At least 30 of the most popular health apps are vulnerable to API assaults that could reveal sensitive patient data, according to a research released earlier this year.
High-level security standards must be implemented while developing a medical application. In order to keep user data as secure as possible, encryption and privacy are also crucial. The protection of data should also be in conformity with local health laws. There is no practical way to develop a medical app that avoids having to comply with legal requirements.
Scalability
A lot of data is collected by a healthcare app; when this amount of data overwhelms non-scalable apps, the systems fail. As mentioned in the preceding sections, this can potentially result in security concerns. The creation of a scalable healthcare app is crucial.
A lot of well-known apps offer individualized services to many users using machine learning and artificial intelligence. Many users utilize Samsung Health, MyFitnessPal, Google Fit, and other services, yet they can all still offer scalable solutions to everyone.
IoT Integration
Today's mobile devices, wristbands, and smartwatches that serve as activity trackers and process medical records in real-time are utilized in conjunction with the majority of health-related mobile applications. The apps must therefore work flawlessly with certain bands and watches. The short answer is that mobile health apps work within the present environment.
Accessibility and User Experience
Many health apps merely prioritize utility, frequently at the expense of the user experience. The finest apps, on the other hand, are so simple to use that consumers see them as seamless. To make sure of this, the frontend and backend teams must collaborate well. Apps like Fabulous and Headspace are well-liked because they are simple to use and use gamification to keep users interested.
Market Trends
The health sector has seen improvements in how to create medical apps emerge quickly, particularly in the aftermath of the most recent wave of technological developments. Therefore, when creating their apps, developers of health apps need to learn how to take into account the most recent trends. In order to construct a medical app, some of the current hot technologies include AI and machine learning, IoT, blockchain, 5G, and so forth.
Which are the 5 key steps to make a healthcare app?
This describes the essential actions that must be completed to create healthcare applications.
Step 1: Determine the Needs of the Target Audience
The market for mobile healthcare apps is already fully developed. Therefore, it is preferable that the creators of any new app have done extensive study to learn how to design a medical app and their target audience.

To make a healthcare app that is truly helpful, companies must also determine the issues these consumers have and how to remedy them.
Ovia Health, for instance, focuses on women and families; Daily Yoga, on yogis and yoga aficionados; and Nike Training Club, on amateur and professional athletes. You must also identify your own specialization.

The elements that should be included in your own app will be decided by the requirements of your audience.
As a result, this stage is also referred to as the business analysis stage, and it aids in learning how to develop the best medical app for your target market.
Step 2. Pre-Development
For instance, Daily Yoga focuses on yogis and yoga enthusiasts; Ovia Health on women and families; Nike Training Club on amateur and professional athletes. You must also decide on your area of expertise. Your audience's needs will determine which components should be included in your own app.
This stage helps you discover how to create the greatest medical app for your target market and is hence also known as the business analysis stage.
Step 3. What is healthcare software development?
The majority of the work is located here. The right personnel (backend developers, frontend developers, project managers, product managers, etc.) have been hired, and the appropriate equipment and technology have been purchased. Many businesses choose to collaborate with an offshore development team at this point.
For example, Angular, Vue, and React for the front-end; Node.js, Laravel, and Ruby on Rails for the back-end; React Native, Ionic, and Flutter for the creation of mobile apps; etc.

The technology stack, which includes all of these, dramatically affects how well an app performs. For instance, by utilizing an effective tech stack made up of Angular and Ionic, we were able to save both the amount of time and money spent developing the Dryft app.
From its available pool of engineers and developers, Kilowott creates development teams for clients.

Time-to-market is shortened, and effective development from a cohesive workforce is ensured by reducing recruitment and hiring expenses and time.
The core app will be created entirely from scratch with further testing and iterations to ensure flawless functionality.

The final software should correspond to the promised results. When developing healthcare applications, the project plan from the pre-development phase should serve as the primary road map.
Step 4. Quality Assurance
No matter how much testing and debugging developers do when creating a healthcare app, they still rely on quality assurance testing to find blind spots and guarantee that the app is operating at its full potential.
Since every issue must be fixed before the app is deployed, this phase is critical. Pre-release advice for the app includes the following: Be user-centric and intuitive Address user demands and pain areas Comply with established privacy and safety standards
Step 5. Product Release and Continuous Support
The app would still need ongoing support when it is deployed. At this point, many businesses decide to let their outsourced development team go and delegate the remaining tasks to the internal staff. This can initially entail constant app iteration to guarantee complete stability.
How Much Does It Cost To Develop a Healthcare App?
There are various ways to develop healthcare applications, thus it is impossible to provide a firm price or even to create an estimate at this time. More specifically, each app prioritizes different features, thus the criteria are undoubtedly going to vary depending on how to create a medical app.
The typical cost of a basic healthcare app is frequently significantly cheaper, although it can cost up to $80,000 approximately.

The price of a finished programme for complicated apps with numerous advanced features can reach $120,000, and that doesn't include the development phase.

Due to the optimized development process, MVP apps are typically less expensive and can be purchased for as little as $30,000. However, everything hinges on the characteristics needed.
However, you may see a table of critical positions that need to be filled below, along with the typical hourly wages in the USA for each position (note that not all positions are applicable to all types of projects).

A senior specialist should take on most of these duties, with a junior or intermediate acting as an understudy while the healthcare app is being developed. Additionally, you can lower development costs by hiring Ukrainian developers.
Minimum industry standard rates for developing a wellness app by hiring freelancers
– Cross-platform mobile developer – $75-120
– Backend developer – $80
– Frontend developer – $60
– QA Tester – $50
– UI/UX Designer – $45
– Project Manager – $50
Not to mention that costs are incurred both before and after the product is released. A large portion of these charges is tied to marketing, press releases, app store optimization costs, and other expenses.

The precise numbers again rely on your objectives and expectations for the app. All of these should be resolved during the budget-setting phase of pre-development.
The core idea is to make users take workouts at various gym locations that change every day. That is, users can have easy access to gym equipment; useful for fitness enthusiasts who don't have enough practice equipment.

Because of the 'drifting' nature of the locations, Kilowott's developers had to build a highly-scalable, iterative app that caters to the constantly changing nature of information input, both for location data and payment processing.
What are some trends in healthcare app development?
The global healthcare app development IT market is anticipated to reach $390.7 billion by 2024. Today, people are more likely to self-medicate due to their increased health worries and difficulty to see a doctor.

This is an opportunity for successful companies to integrate with DTx (digital therapy) solutions.

Big data, virtual reality, artificial intelligence, machine learning, and chatbots for pharmaceutical enterprises are not the wave of the future but rather a popular present.

In comparison to clinical decision-making and conventional analytics, AI presents the healthcare sector with a plethora of potential. When learning algorithms interact with training data, they can grow more accurate and precise and give medical professionals access to previously unattainable insights, treatment variations, patient outcomes, and diagnostics.
Health App Trend #1 – Consumer Focus In Healthcare
The direction of healthcare technology development will change in 2021. In the past, medical professionals, researchers, and insurance providers have directed technical advancement to obtain the essential data.

Today, we observe the development of a patient-centered strategy and acknowledge the significance of the patient experience. How may a patient's life be made easier? What more benefits can we provide the user? These inquiries require responses.

Therefore, in 2022, healthcare will put more emphasis on improving patient experience and the efficacy of medications. We anticipate a change toward what we refer to as consumer orientation.

In order to give value-added services and draw in more users, healthcare app developers and providers will embrace healthcare mobile app development.
Health App Trend #2 – Interoperability
In order to deliver the best care possible at any time, interoperability in healthcare enables data from many health information networks to be shared and accessible by a physician, lab, or hospital, regardless of the system or application being used.

It occurs when software and hardware from different systems may freely communicate and exchange data. There are three layers of interoperability: functional, structural, and semantic.
Health App Trend #3 – Telemedicine
People were hesitant to use telemedicine in the past. Now since it is fast, convenient, and high-quality, many people comprehend it. The full potential of this technology emerged with the onset of the pandemic. Both people and medical professionals can benefit from it. All significant scientific conferences now take place online. Previously, these actions could only be taken face-to-face, but this has changed recently.
Health App Trend #4 – Integration with medical equipment
In many situations, telemedicine platform integration with hardware is beneficial. You can create an API for remote access to devices that will help you track patients' vital signs, or you can use the programme to connect several medical devices to collect real-time patient readings, correlate them, and interpret the results.
There is always opportunity for new integrations between development apps and devices like pacemakers, automatic tonometers, sugar level sensors, etc.
Health App Trend #5 – Virtual Waiting Room
The creation of a virtual waiting room to reduce the danger of infection in a physical waiting room during the pandemic is perhaps another significant trend in the development of healthcare mobile apps.

Patients will be able to receive notifications when other visitors enter the facility through a virtual waiting room that the technology will construct, maybe in the form of a smartphone app. A patient can check in using a mobile device from their car and wait for an exam room to open up in a virtual waiting area.

By avoiding the standard waiting area, it reduces the likelihood that the patient will come into contact with other patients, germs, or viruses that are on shared equipment like kiosks and materials like magazines, books, papers, clipboards, and pens. Such a strategy can help people avoid unwanted interaction and can enable doctors and staff to get things done even after the pandemic is over. Many businesses are now integrating a virtual waiting room to their goods to increase usefulness.
---
Related Reading: The Best Cross Platform Development Companies in The World
---
Health App Trend #6 – Remote Monitoring Of Elderly Patients
Due to low fertility and longer life expectancies, the world's population is aging quickly.

The World Health Organization estimates that 727 million people worldwide will be 65 years of age or older in 2020. By 2050, this figure is anticipated to double, reaching nearly 1.5 billion people. By 2030, there will be 1.4 billion people over the age of 60, representing an increase in the proportion of older people in the world population from 9.3% in 2020 to 16.0% in 2050.
Because there are so many older people, medical care is more expensive. We need to discover better ways to care for elderly people in light of the rising senior population and the additional COVID-19 demand.

The WHO ICOPE Handbook App, a piece of digital health technology, aids healthcare professionals in providing better care for elderly patients. This group of technologies allows high-risk patients to avoid potentially dangerous hospital visits by monitoring elderly or chronically unwell patients at home.

The app can offer a quicker means for the doctor to communicate with the patient if something goes wrong. The software will govern the patient's status via wearable gadgets and inform them and their caretakers if necessary, so doctors won't need to keep an eye on patients all the time.
Remote patient monitoring will keep getting better in 2021. The creation of these kinds of healthcare mobile apps will soar, and even more tools to aid in caregiving will be created. Chatbots and other digital devices can encourage healthy aging, while apps can assist with medication management and appointment reminders.
Health App Trend #7 – Supplemented Intelligence To Support Clinical Decision Making
Artificial intelligence is being used by science-related businesses to find and produce novel medications and vaccines. There are numerous healthcare applications for AI, particularly in clinical decision-making to support medical professionals in disease diagnosis. It is most likely one of the most significant areas where AI will advance in 2021.

The possibility of some illnesses will be estimated with the use of artificial intelligence, but the doctor will still have the final say. The acceptance of ML-based diagnostic systems has increased. Future AI/ML solutions will support or safeguard patients who might need protection before an emergency situation arises.

Patients who forget to take their medication, take it at the wrong time, or take it in the wrong combination, for instance, could be given priority for nurse visits, calls, counseling, and instruction.
Which are the top healthcare app development companies?
1. Foonkie Monkey
With more than nine years of experience in App development and custom software development, we found that it all starts with a good idea. A powerful one, looking for a change in the behavior of people through creativity, teamwork, and perseverance.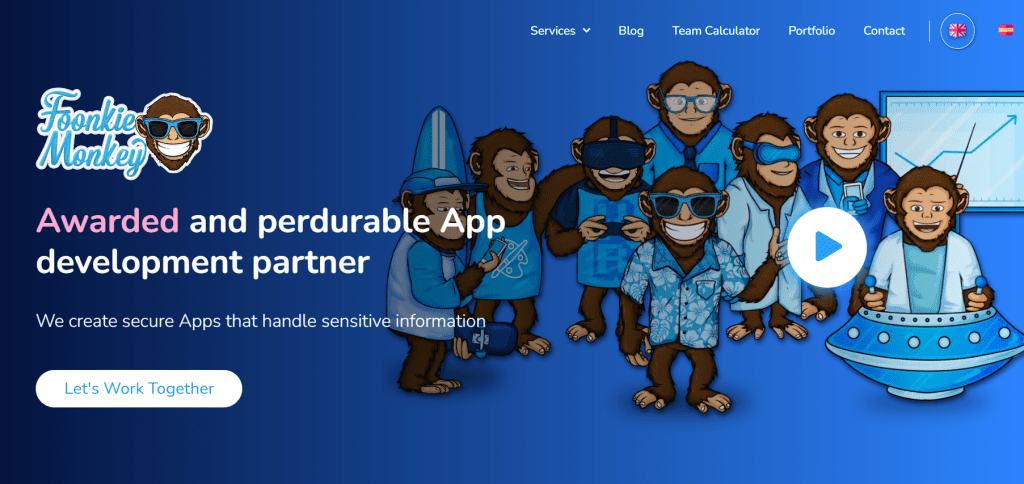 2. Sidebench
Sidebench is an award winning UX design, mobile app and custom software development company in Los Angeles. They are a diverse group of digital strategists, technologists, tinkers, and thought leaders.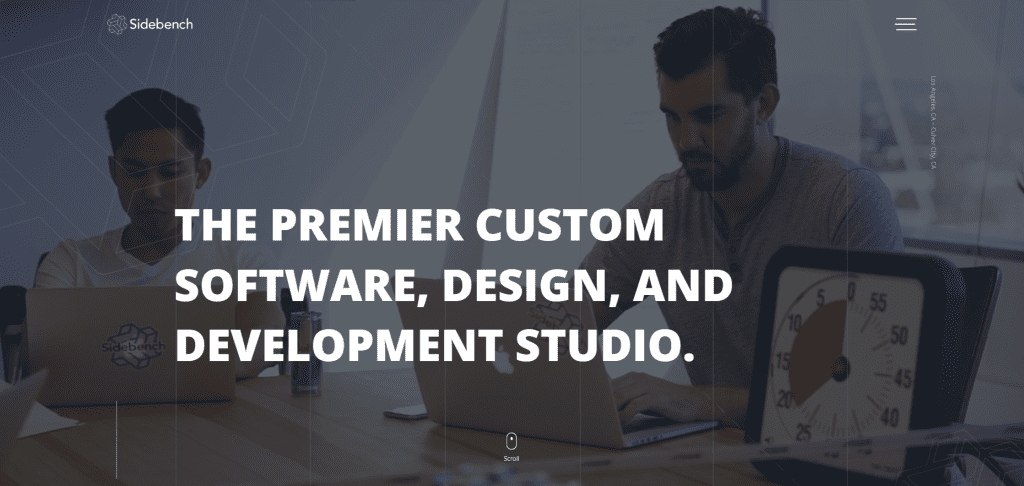 3. Riseapps
They always take on unique and innovative projects. High standards and inspiring goals encourage everyone on the team to pursue excellence.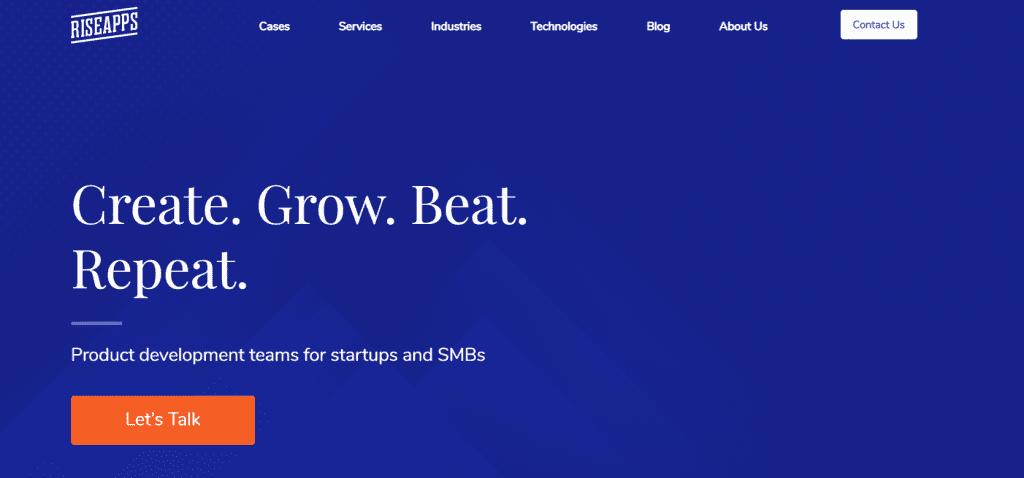 4. You are launched
Their team gathers success stories from Accelerators & VCs, fail stories from other and own startups, and a list of great tactics found and used by us. And that's the main reason why they were created.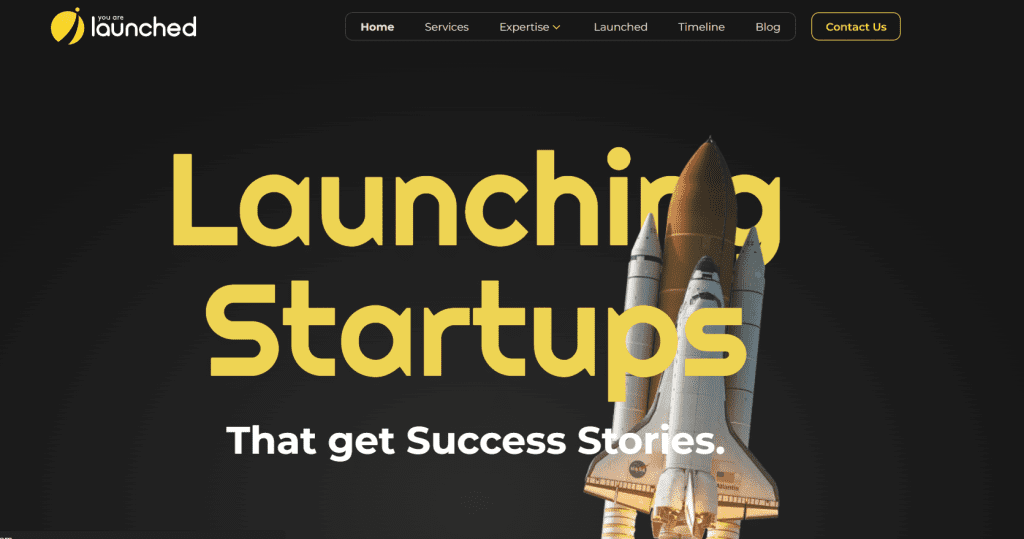 5. 10Pearls
We design transformational digital products and experiences that drive real business value and customer impact—so you can create innovative products faster and at scale.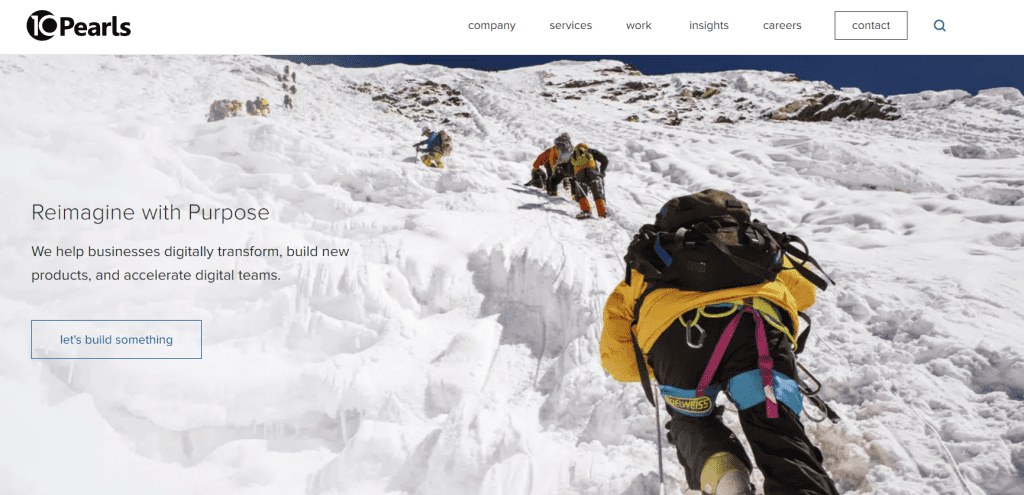 6. Deviniti
They draw energy from the experiences of our 300 specialists, turning ideas into solutions that reach the goal. They believe in teamwork, and our customers remain our partners.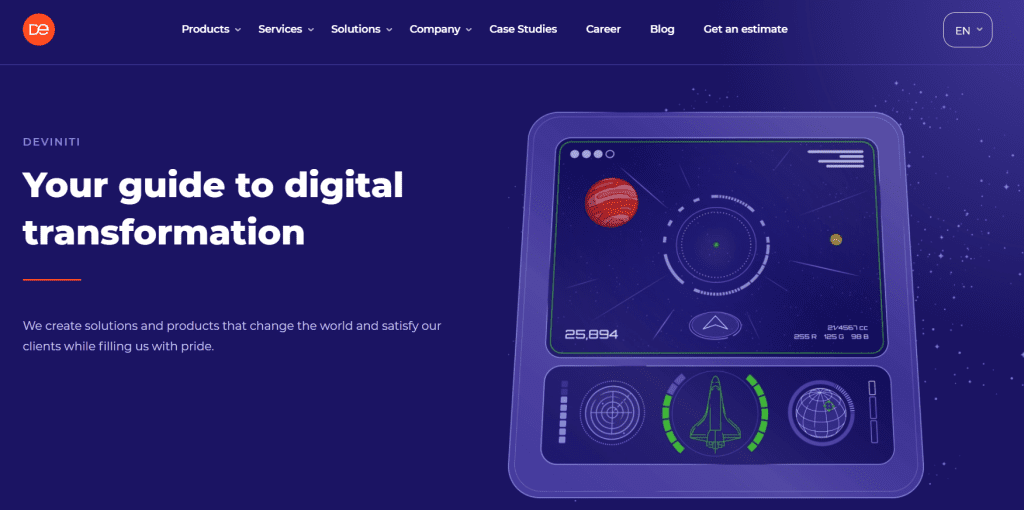 7. Apzumi
They are a dedicated tech partner that will help you lead your business through recommendations and development. They collaborate with startups and companies who appreciate quality and innovation.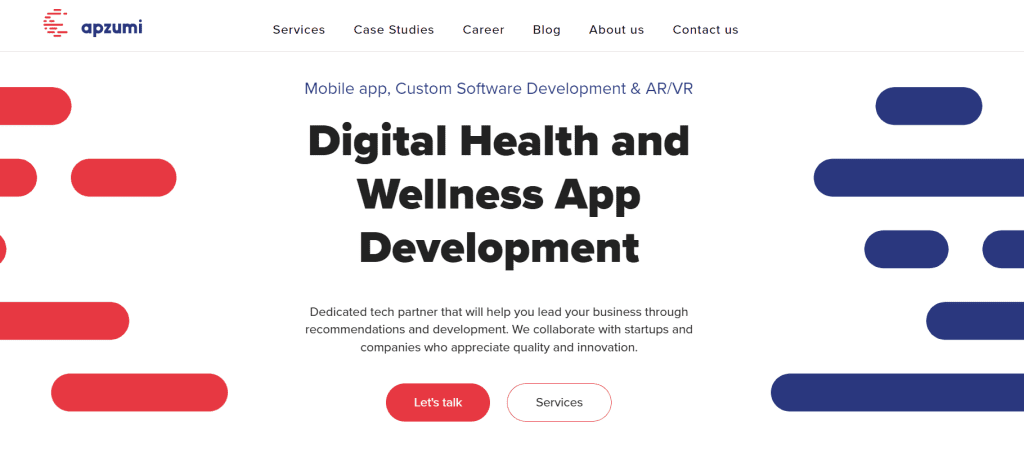 8. Launchpad App Development
Launchpad partners with founders to build innovative health, fitness and medical digital products that improve the lives of users and rewrite the rules of traditional business models.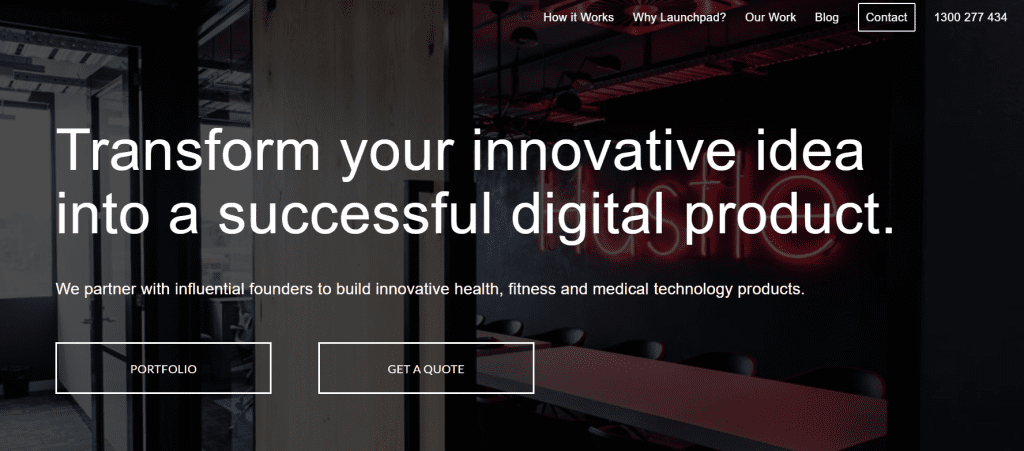 9. Cleveroad
We're a full-cycle web and mobile application development company that creates software solutions tailored to the demands of businesses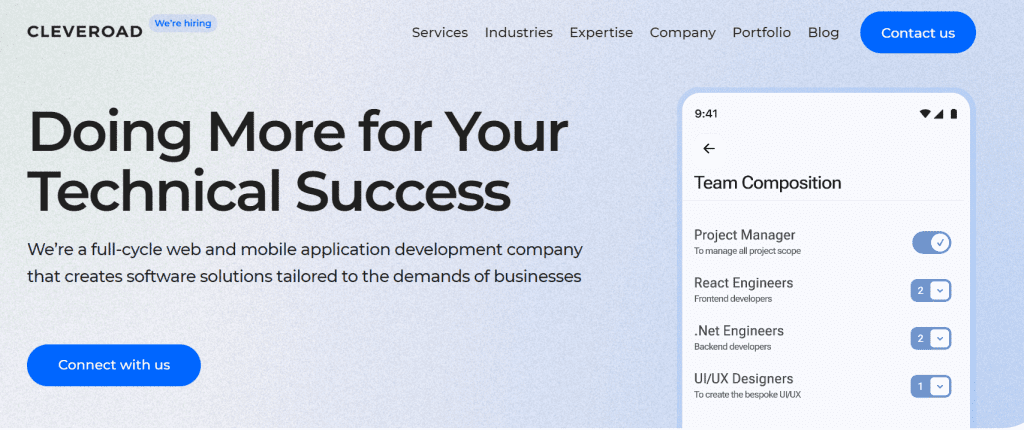 10. December Labs
They leverage their client's existing stack or analyze and recommend the best approach and solution for your needs.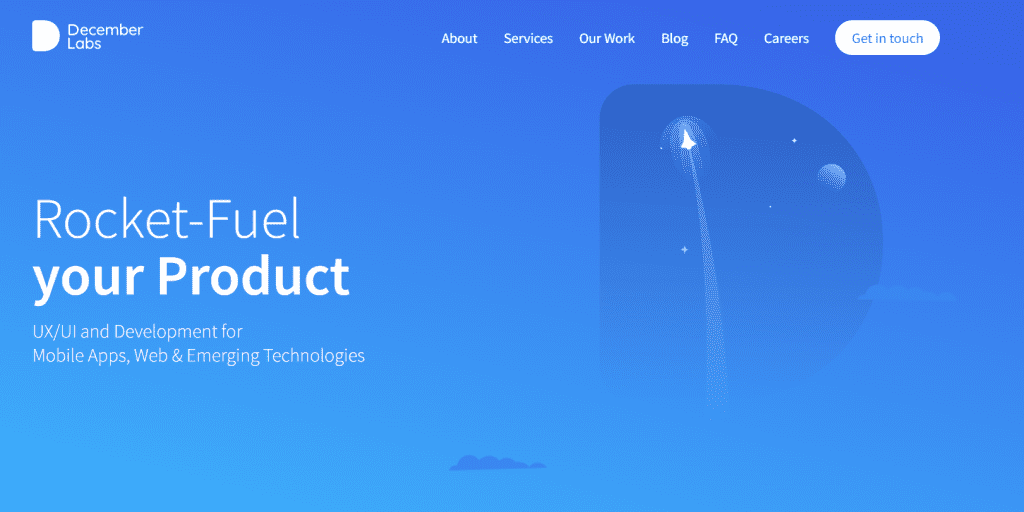 11. MindSea
From strategy and UX design to development and continuous improvement of mobile and web apps, they help amplify and extend your product's impact and improve user outcomes.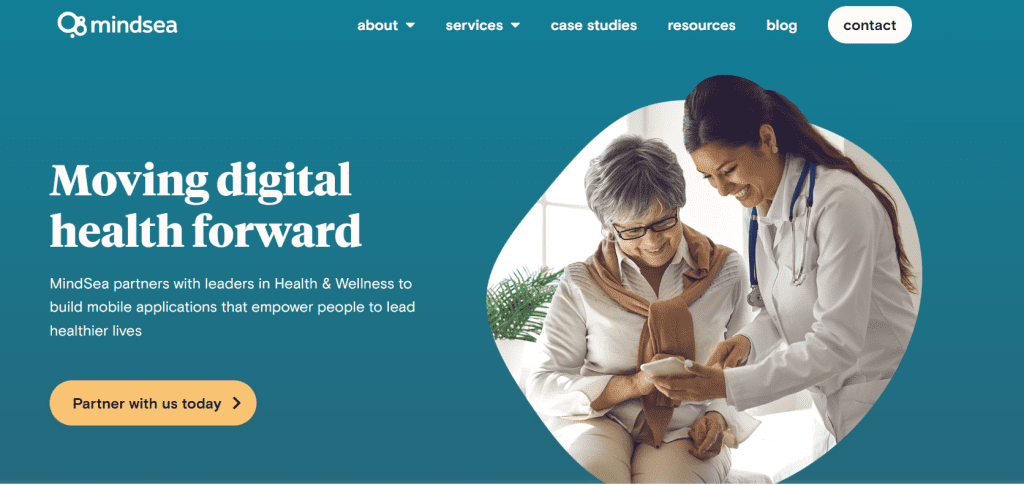 12. Twenty Ideas
They're a product design and development agency that turns visionary ideas into innovative and empathetic digital solutions to advance health, wellness, learning, and more.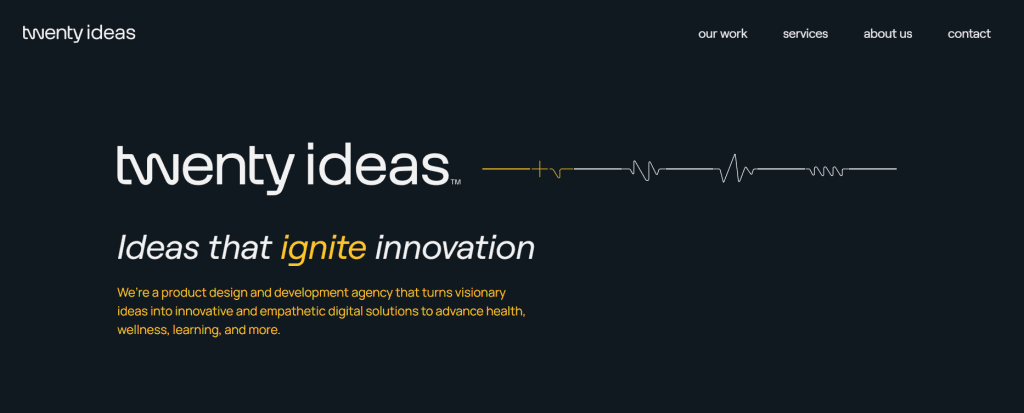 13. Hedgehog Lab
They help global brands with digital products on mobile, web and connected platforms.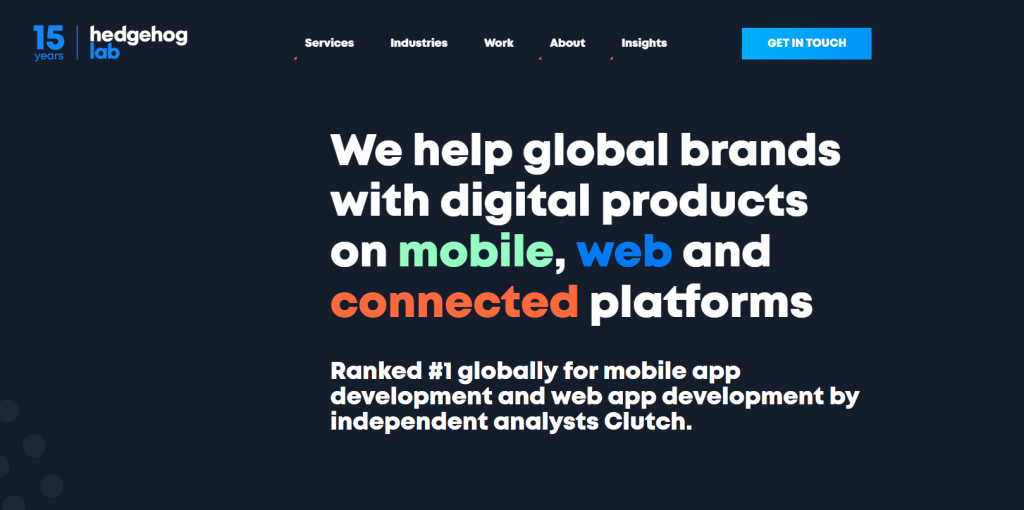 14. Kilowott – Custom Software Development Company
Kilowott is a boutique business experience (BX) transformation firm accelerating growth for businesses of all sizes across industries by reimagining the way businesses operate and crafting digital experiences with the user at the core.
Kilowott's design heritage coupled with their digital transformation expertise and deep focus on user experience helps them stand apart from the crowd. All their business experience transformation engagements focus on enhanced digital customer experience while driving up business profitability.

Kilowott's educational app developers have extensive experience in developing solid, scalable iOS applications. Kilowott initiates healthcare application development for a variety of industries, throughout the world. They assist you in developing a solution that showcases your authentic voice in a store with millions of apps.
Let's make your ideas a reality. Though the pandemic has taken its toll on all of us, there is no need to be a hostage to the situation. There's no need to stop, it's worth continuing to search for new opportunities and use the situation to develop new projects and ideas. It can as well be a new and exciting wellness or healthcare app.

Let's figure out together how to create an healthcare app that would help you reach your goals and make this world a better place.
Need help with building wellness apps to grow your business revenue? Let's talk!