Nearly all of our customary daily processes have changed as a result of the global epidemic and the subsequent quarantine. Unfortunately, some businesses either scaled back operations or shut down. Some people adapted to working remotely.

One of the most drastic shifts occurred in the education sector. Although the remote learning format has been available for a while, an unanticipated and forced change has nonetheless become a significant obstacle. But these challenges ended up being a blessing in disguise for the market for educational apps. Therefore, considering how to build an instructional app is a wise choice.
The contemporary environment and the increasing popularity of learning apps of all kinds have sparked an increase in interest in developing educational apps.
A cloud-based educational app or platform are perfect for providing students with educational materials. Both students and teachers will find these concepts to be highly useful. For instance, in addition to file sharing, Schoology allows you to highlight key passages in the text and take notes. It has also created the educational tool Google Classroom.

Utilizing Google Documents, creating copies for each student, and creating Google Drive folders are all made possible by this tool. Everything is therefore in order. Your chance to generate money while producing something beneficial for society is with educational apps.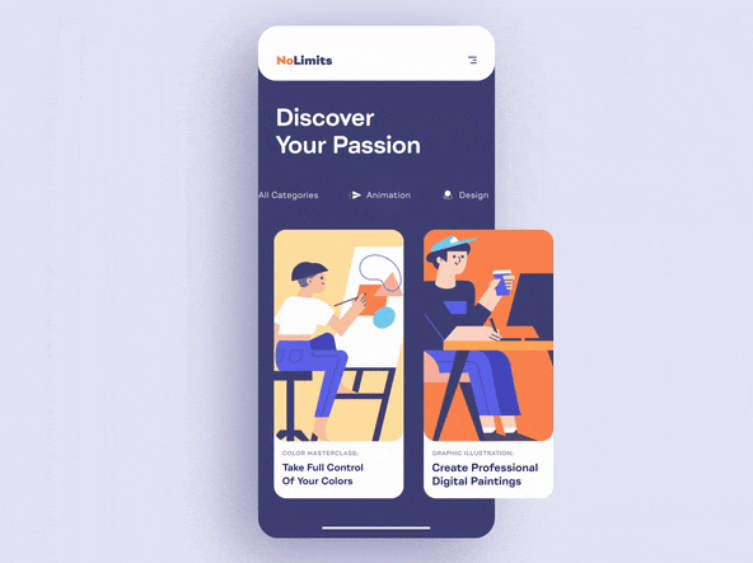 What is an educational app and why are they popular?
Education is in style. Not for the sake of the degrees, but rather to learn more. Future success is dependent on knowledge, for both children and adults.
"Today knowledge has power. It controls access to opportunity and advancement."

–Peter Drucker
Apps for learning are one approach to learning this information. An educational app is a piece of mobile software made to assist people with any form of remote learning. Examples range from applications that teach young children fundamental math concepts to apps that serve as adult training platforms for advanced professional skills.
---
Related Reading: The Best Android App Development Companies in The World
---
Who uses an educational app?
Children of all ages, beginning with toddlers, can acquire fundamental concepts and speed up the learning process. Candidates and students who require assistance with exam preparation,
and specialists to keep their qualifications at a high level or advance to the next one.
People who made the decision to learn new things, further their education, develop their skills, and learn new things
Educational facilities to address various learning issues – platforms for online learning to leverage these apps as a tool for improved market advertising.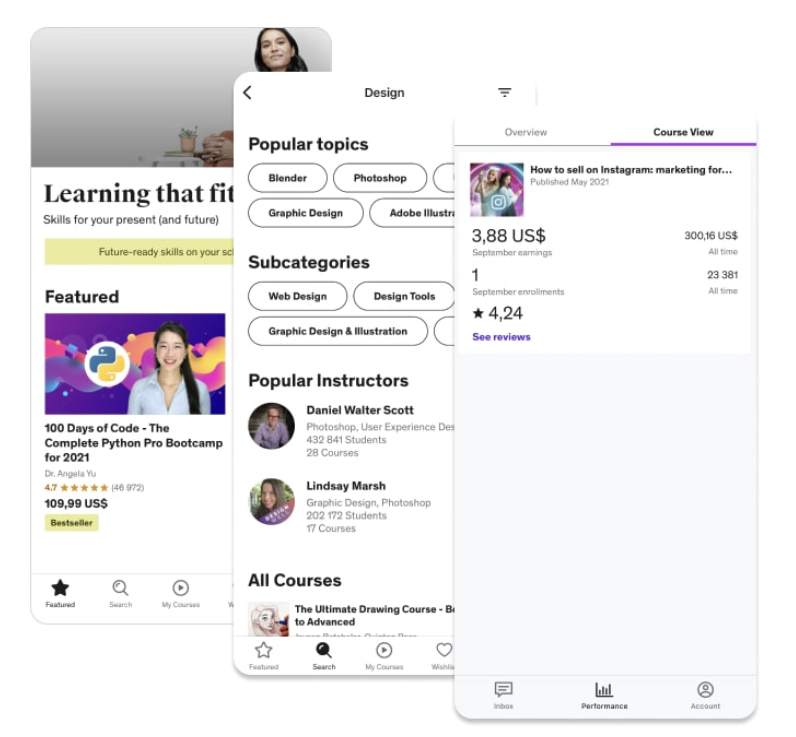 Which are the different types of educational apps?
There are innumerable classifications for learning applications, just as there are countless different types of learning apps.
Prior to developing your application, you must decide which training concept will be offered to your users. Depending on their goals, educational apps can:
If we are referring to learning platforms like Udemy, Coursera, or edX, then it is usually a stylish, reliable platform with several authors offering their content and a variety of courses.
Create a welcoming space where students can take classes in the easiest to understand format if you have this kind of software in mind. Allow as many formats as you want, let course makers load a course piece by piece, add tests and a grading system, as well as motivational aspects for future learners.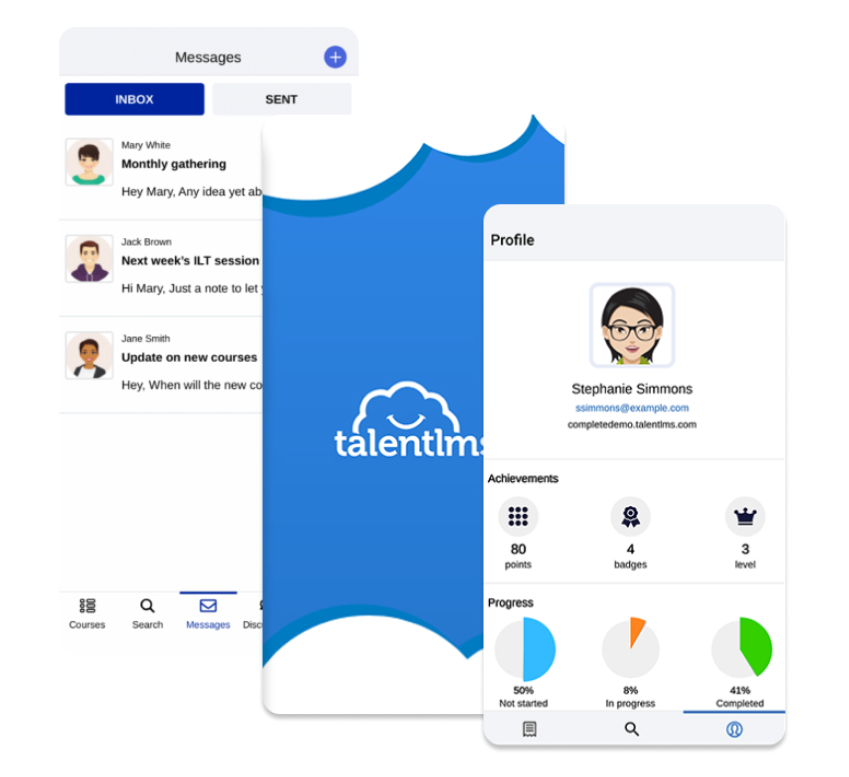 By efficiently automating the process, streamlining development workflows enables a business to generate better experiences more quickly. Faster builds enable more testing and releases, which ultimately boosts customer satisfaction.
---
Related Reading: The Best Wearable App Development Companies in The World
---
Apps for learning a particular subject
If you choose to build a single-topic app, you must give careful consideration to the idea of information distribution. Your app should be fully functioning and have a distinctive, inviting look.
Educational video games
Learning and fun coexist in apps with a game-like feel. Strong learning concepts, stories, and game scenarios are necessary to entice users to learn by playing. Of course, gamification is a step of app development that might be challenging to do successfully.

However, it encourages users to keep studying in a fun and enjoyable environment. As a result, although being sophisticated, these applications are common compared to other kinds.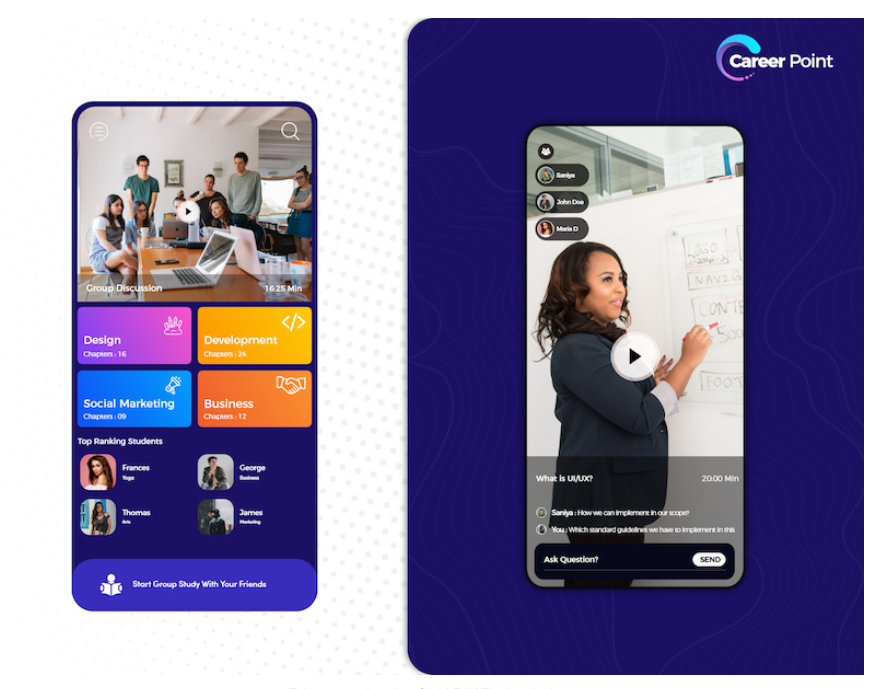 LMS apps, or learning management systems
Learning management systems are currently a common sort of training app. Such apps are used by big businesses to combine various learning concepts they want to offer to their staff.

An LMS makes it possible for business employees to receive training in a single, easily analyzed and evaluated environment.
Apps for classroom instruction
Additionally, so-called classroom applications, which don't actually facilitate learning but rather administer it, are another common kind of educational software. These apps are typically used as a centralized location for parents, teachers, and students to track their progress.
Kids' educational apps
Of course, instructional apps for kids fall under a different category. They must be created with an understanding of child psychology and the capacity to motivate and engage young learners while communicating crucial learning objectives.
You or someone you know probably can think of other educational apps that don't fit into these categories and that you or they use.
Actually, roughly 75% of dynamic websites throughout the world are powered by PHP. Open-source application frameworks like Drupal, Magento, and WordPress are built on top of it.
---
Related Reading: The Best Custom Software Development Companies in The World
---
Why would people want to use your e-learning app?
The first thing you need to know in order to respond to this query is that people are seeking out more educational apps!

Moreover, here's why:
Time and location adaptability
The main justification for the popularity of educational applications is this.

Online courses are superior to offline programmes for the simple reason that you can access them wherever and anywhere you want.

For those who are busy, this is especially crucial. In the twenty-first century, all the technical requirements are available for using even the most basic educational software.
What could be more convenient than having a device in your pocket that allows you to learn more knowledge?
And these days, learning something new or developing a new ability that will enable you to earn more money doesn't require you to spend thousands of dollars or travel huge distances.
wise decision People are no longer limited to choose only the courses offered in their city or having to wait for a specific individual to provide a tour.
These days, we have the option of selecting any of the online learning resources. Thus, the development of learning applications is now more important than ever.

There are many significant players in several categories of apps that are currently quite popular, but there are also many issues that users require that are not sufficiently covered in the present offerings.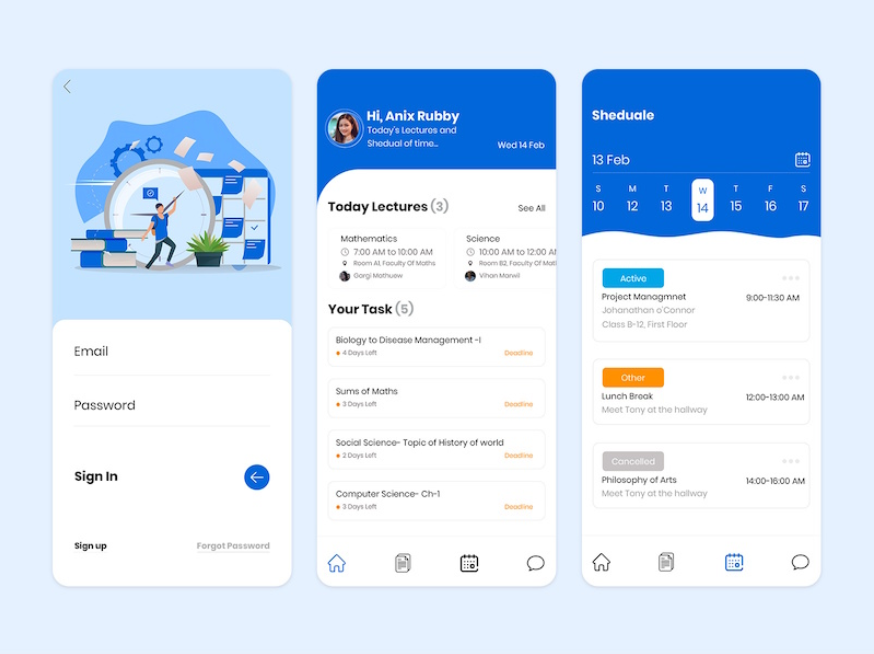 Cost-saving
Even if an educational app is paid for by a subscription, the cost is still significantly lower than hiring a tutor. Because they are the simplest and least expensive way to learn something, learning applications are the first option people make. This method does not call for significant financial outlays or time commitments.

No attempt was made to contact the teacher, and there were no pressing technical demands. Simply tap the programme icon to begin studying right now; it couldn't be easier!
Efficiency
Learning can be done more quickly, more systematically, without having to commute, etc. when it is done online. As a result, an application is the most practical and straightforward method, and because of its ease of use, unlike other forms of training, it does not encourage procrastination.
Don't forget that people have learned that online learning is a practical and handy approach to grow smarter as a result of the global epidemic and self-isolation.

In addition to all of its beneficial educational qualities, it restricts the number of encounters with people outside the home. You can actually learn any kind of information and abilities without leaving your bed.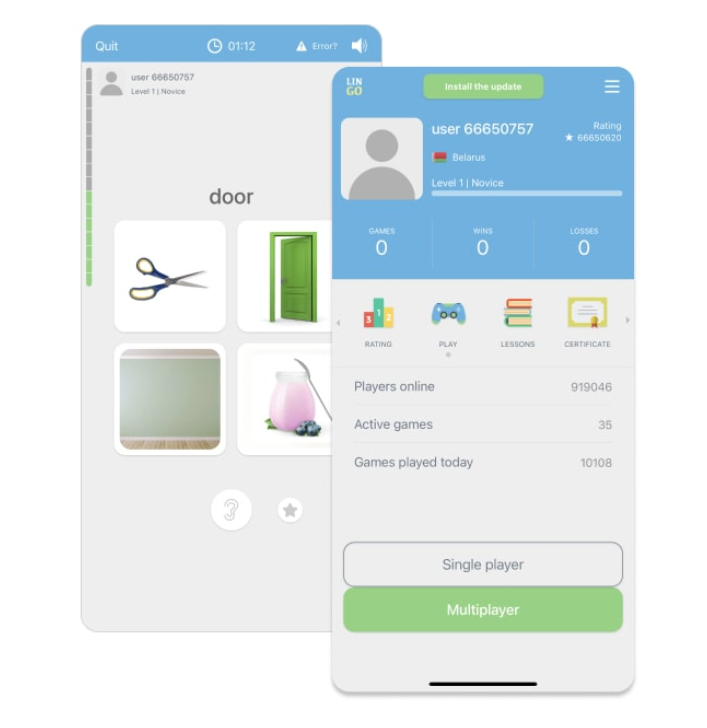 Simplicity
Naturally, this method of learning also benefits from a familiar, simplified display to which the human eye is already acclimated well because of the widespread use of smartphones.
Now you understand how much it costs to develop applications like well-known startups, so it's time to look at the factors that affect the app costs.
---
Related Reading: The Best React Native Development Companies in The World
---
What's the state of the current educational apps market?
Have you ever considered the sheer number of people engaged in online learning activities? Have you tried any while you were in quarantine? Didn't you hear businesses doing that?
The pandemic has pushed online education into the spotlight in recent years, and it appears to have promising futures.

The fact that this sector may produce spectacular profits is becoming more and more clear to the creators of such materials.
Take a look at the most popular App Store categories according to Statista.com data to demonstrate this.
Today, a market for education serves as a testing ground for cutting-edge technological advancements and is a major source of revenue. By 2024, it is anticipated that the market for educational apps will increase by over $46 billion.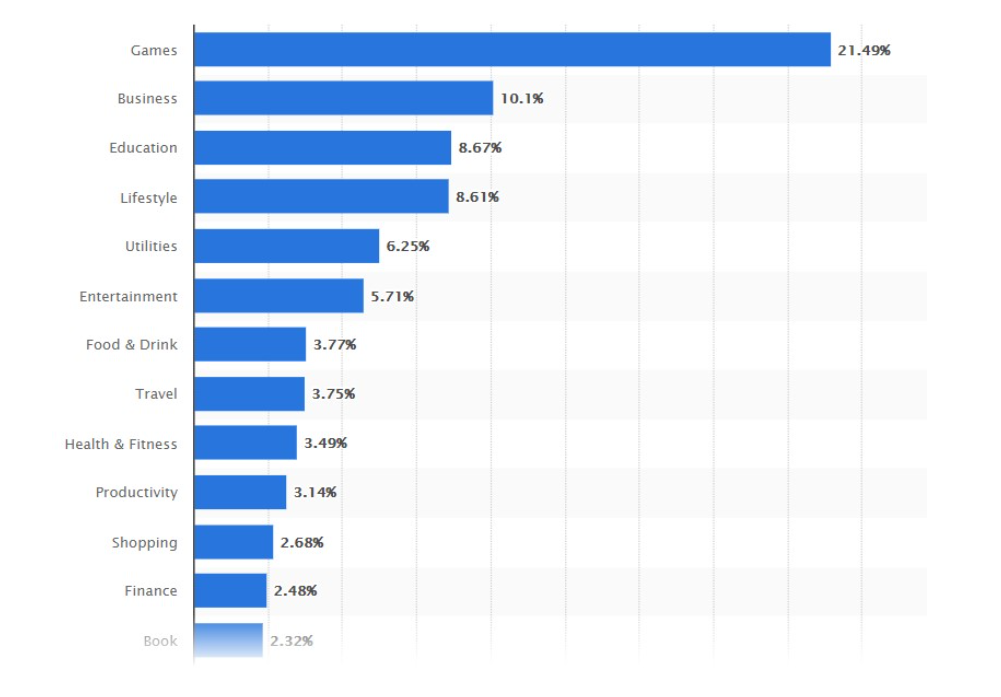 What characteristics distinguish a good learning app?
Given the variety of possibilities previously given, a lot relies on the aim. Typical standard capabilities of an educational app include:
– Menu in user profiles
– Storing instructional materials
– Using push notifications
– Mechanism for scheduling feedback
– Search
– Information about learning dynamics
– Integration of social networks
– Capability of paying (if needed)
How to build an educational application?
Prior to creating a learning app, it's crucial to create a plan of attack. You'll avoid a lot of difficulty if you follow these instructions.
– Finding a concept – Create a distinctive (at least in some ways) idea by considering what you or the people around you would like to see on their phones, as well as current trends and business potential.
– Market analysis – Pay as much attention as you can to this step because one of the main reasons why so many firms fail before they can establish themselves is a lack of adequate marketing research.
– Testing – After choosing a concept and researching the market, poll your intended audience. Are they satisfied? Can they use it? What guidance can they offer?
– MVP – Create an MVP first with the most essential functionality, then move further.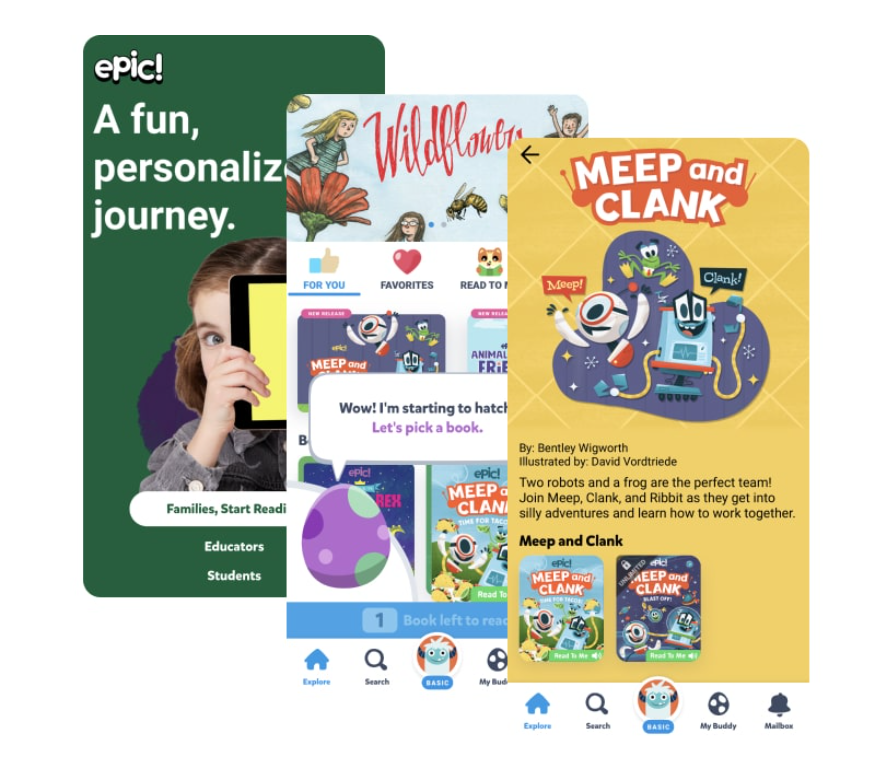 App constructors
If you're seeking for a way to make an educational app, you can run into app builders who provide ready-made solutions and no-coding app creation services.

Compared to unique solutions created by expert app development organizations, they are significantly less expensive.

You should be aware, though, that using these services has a number of extremely major disadvantages, such as the inability to design something specifically for you, maintainability challenges, and potential difficulties getting your product into app stores.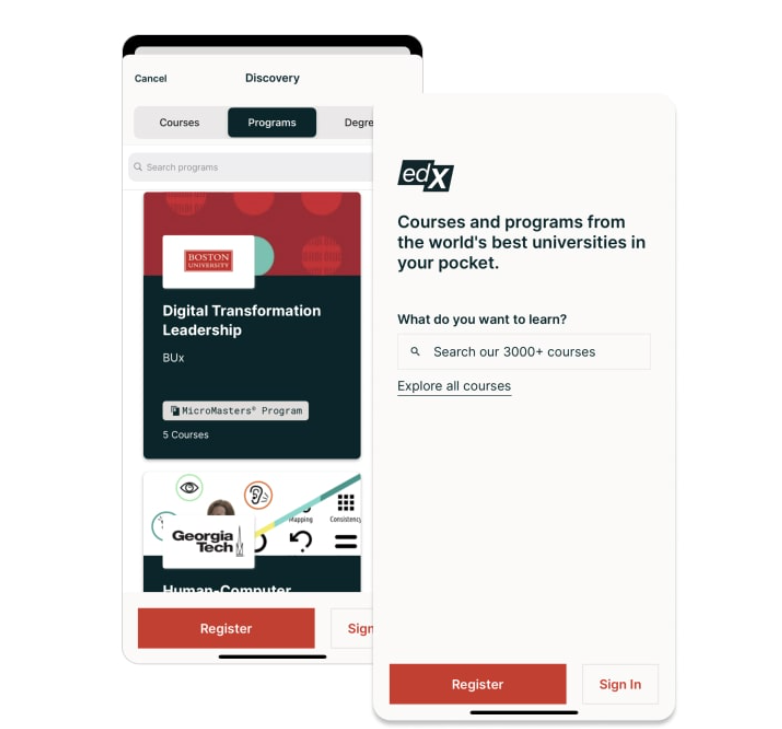 Educational app development
An app's design is influenced by its users' objectives. A learning app's user interface (UI) might range from cheerful, adorable themes with animations and graphics for children to somber, minimalistic ones for adults.

The UX component is what unites them all.

Every instructional software is beneficial if it can: Grab someone's attention and hold it
Whether it is a platform for courses or an app focused on a single subject, the design of an educational app relies on its type.
Particularly, learning management apps should be created in a strictly basic manner. It lacks any eye-catching elements and instead has a simple, possibly slightly dated appearance that resembles a public school. The design of learning systems is similarly rigid and serious: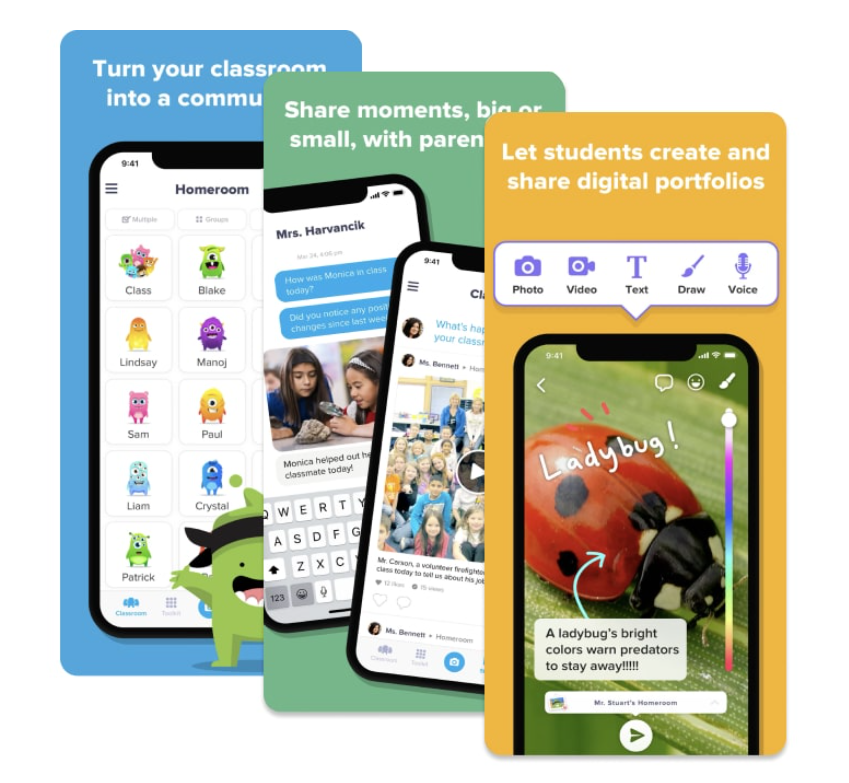 A more complex programme, such as an enterprise or CRM, would cost more to design.
---
Related Reading: The Best Cross Platform Development Companies in The World
---
Edx app design
Cute animations, pictures, and a cartoony design, however, will help if you make an e-learning software based on game logic. Users can use these apps to pass the time while studying.

Take a look at Brainly, one of the top 10 educational applications in terms of downloads. It has a fresh, simple color scheme and a modern, elegant appearance:
The differences between apps that are designed to teach a particular subject, like a language, are not very noticeable. They are all built in a minimalistic manner that is similar to one another, with few colorful details and little incorporation of the app's logo.
Despite coming from distinct creators, some screens can be mistaken for others.
Designers make use of all kinds of tricks to ensure a smooth, continuous flow, a sense of achievement, ease of use, and a clear structure.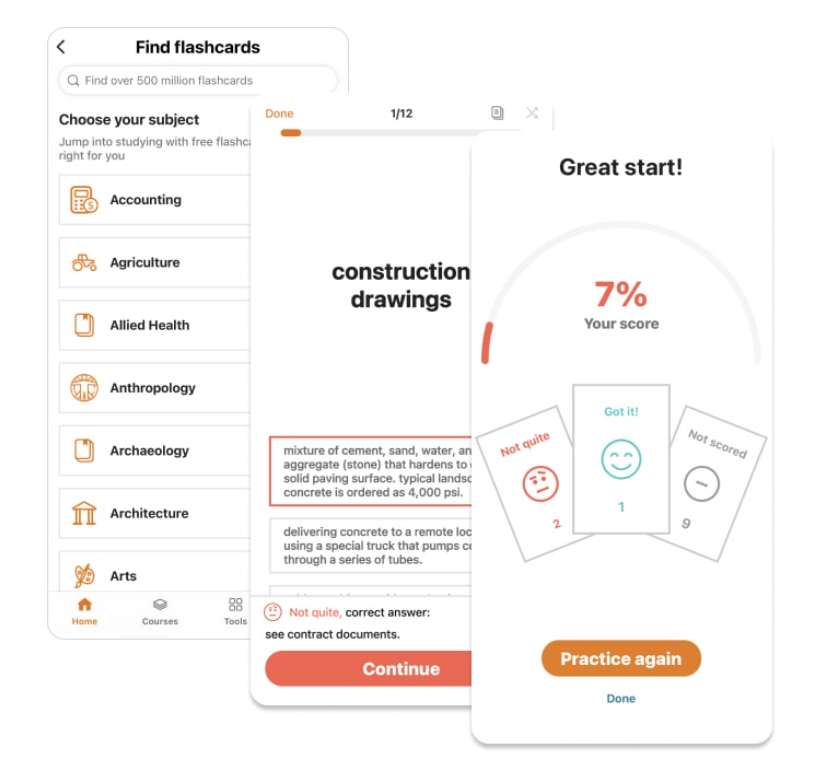 How to get started with educational app development?
To make an educational app for iOS or Android, you'll need a development team, consisting of the following specialists:
Designers employ a variety of techniques to guarantee a fluid, continuous flow, a sense of accomplishment, usability, and a clear structure.
Project manager
UI/UX designer
One or two mobile developers
One or two back-end developers (depending on the required development speed)
QA engineer.
You have two main options because you require the assistance of multiple persons and may find it difficult to acquire different freelancer specialists: either hire an internal team or use an outsourced company's services. The latter is beneficial because of reduction in overheads and the covering the gaps in education app expertise.

However, because of the better living standards in some regions of the world, they frequently cost more (and occasionally by a factor of three). While maintaining the same level of skill and without sacrificing the quality of the final product, developers from outsourcing locations offer more competitive pricing.
What technology stack is needed for developing educational apps?
It's impossible to say for sure which languages and technologies to use for mobile app development before studying the specifics because they all have advantages and disadvantages.
Swift and Objective-C programming languages, along with the Xcode IDE, make up our mobile app stack for iOS and Android. To create Android apps, we employ the Java and Kotlin programming languages, the Android Studio IDE, and the Retrofit REST client. Redis, Postgre DB,.NET, Ruby, and Postgre DB make up the backend/API stack. Material UI, React, Angular, and jQuery are used to create admin panels.
The two main methods for developing educational apps are to create native apps or cross-platform ones.
The following are the primary traits of native applications, which are made specifically for the iOS or Android platforms:
– higher cost
– increased standards for developers
– accelerated performance
– interdisciplinary development
Therefore, even if it is more expensive, native development seems to be a superior option for educational apps because it provides a more individualized and quality-focused approach.
Consult Kilowott before selecting the tech stack for your project. The final selection of technology and tools is determined by the needs of your project.
How much does it cost to make an educational app?
The number, kind, and complexity of the necessary features as well as the existence of pricey components like animations can all have an impact on how much it costs to design an educational mobile app.
It took our team at Kilowott close to 2100 hours to construct the MVP of an educational software for children. The project's approximate estimations therefore include UI/UX design, management, testing, and iOS front-end and server-side development using our outsource rates.
Total cost: $115 500 approx.
This version is an MVP. Approximately 2500–2600 hours (or $87 500–$91 000) will be required to develop the programme with all of its features, though these estimates for time and money can vary substantially.

Because the project in our example is geared at children and has numerous pricey artwork and animations, your MVP may end up being far less expensive. Only after speaking with our experts will you be able to get a more precise figure.
How to monetize an educational app?
The type of monetization strategy you select for your app will depend on its features, user base, and, to some extent, luck (you should always be testing your methods).

However, one (or a mix of these four) of these strategies is used to monetise the vast majority of educational apps.
Paid apps
Simplest course of action. You present a number of benefits, discuss the necessity for people to pay for them, and establish a fair pricing (which is an art by itself).
The best revenue models in this scenario, should you decide to make your programme free, are:
Subscription
The most widely used way to make money from a learning app is through a monthly subscription.
One of the most well-liked language learning apps is called Drops, and a lifetime subscription costs just $209. So far, 25 million people have used it.
Freemium
Some educational programmes, such as Duolingo, offer premium features that can only be unlocked by subscribing.
Due to its ability to sell a variety of gaming alternatives like "life" and "diamonds" and the in-app advertising option, the free learning software Duolingo produced $161 million in revenue in 2020, a 106% increase year over year:
Duolingo is an educational app.
Uptime is a free app with in-app purchases that cost $79,9 annually. It raised $16 million in a Seed investment round and offers consumers five-minute information snippets from the best books and courses.
In-app ads
Because they enable free app usage, ads are well-liked. Particularly in kid-targeted apps, you should only be mindful of the ads you select and how many of them you display.
What are the trends in educational app development?
Video content
One of the most often used content formats is still video. It explains, for instance, the TikTok app's meteoric rise in popularity.
The app was only well-known in China in 2016, but as of September 2018, it has more American downloads than Facebook, Instagram, YouTube, and Snapchat combined. If they fit the format of your learning app, include video lectures.
Technologies like AR, VR, and AI
Many people still view virtual reality (VR) as purely amusing. In order to discuss the revolution in the gaming industry, there are still not enough VR devices available. However, the format ended up being popular in other fields including medicine and education (and medical education).

Large corporations are starting to adopt VR to teach their workforces in greater numbers. The explanations are straightforward: a worker can be swiftly and readily immersed in the setting of a situation, put through several scenarios, and then tested right away.
The use of AR-visualization boosts both the depth of learning and memorization of information by making complicated objects easy to understand.
Artificial intelligence chatbots are available to help with the use of AI. AI mentors are available at all times to help you understand any difficult subject.

Additionally, AI algorithms are able to examine a large body of work, pinpoint a specific student's areas of weakness, and design customized lessons to close knowledge gaps.
What makes a good educational app?
Gamification
By gamifying an app, you may leverage gaming mechanics to accomplish genuine objectives. In other words, the game-like flow makes dull projects entertaining and simplifies challenging tasks. Elevate is a gamified educational programme where users are encouraged to study through a series of gameplay phases and dashboard analysis.
Micro training
One of the biggest fitness trends for 2021 is micro training. According to the quickening pace of life, its popularity will only increase yearly.
Micro training methods are appropriate for both fitness and educational apps. It entails delivering educational material in a brevity and digestibility that takes only 5 to 10 minutes to complete.
Which are the best educational app development companies?
1. Rootstrap
At Rootstrap they combine creativity, technical expertise, and process-driven development to create innovative products for our clients.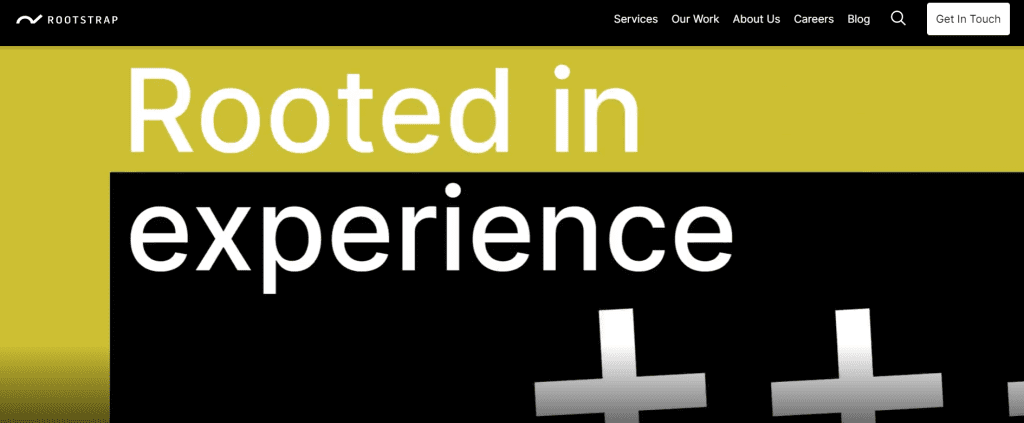 2. Kilowott – Custom Software Development Company
Kilowott is a boutique business experience (BX) transformation firm accelerating growth for businesses of all sizes across industries by reimagining the way businesses operate and crafting digital experiences with the user at the core.
Kilowott's design heritage coupled with their digital transformation expertise and deep focus on user experience helps them stand apart from the crowd. All their business experience transformation engagements focus on enhanced digital customer experience while driving up business profitability.

Kilowott's educational app developers have extensive experience in developing solid, scalable iOS applications. Kilowott initiates educational application development for a variety of industries, throughout the world. They assist you in developing a solution that showcases your authentic voice in a store with millions of apps.
3. Linnify
Their method stems from authentic ideas that come together as one bigger vision that is brave enough to challenge the way we experience life.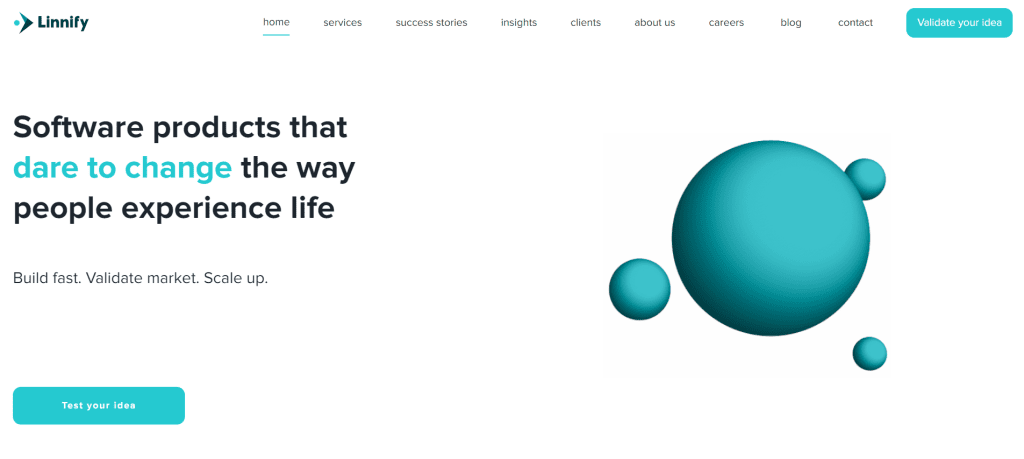 4. Geniusee
Among them, there are both dynamic small to medium businesses in FinTech, Edtech, AgroTech, etc, and startups from YCombinator & TechStars on Series A to D funding rounds. Our team has completed more than 100 projects on time and budget in different domains, including: finance, retail, automotive, real estate, transportation, education, tourism. We were working with businesses from the USA, UK, Germany, Switzerland, Japan, Singapore, Ukraine.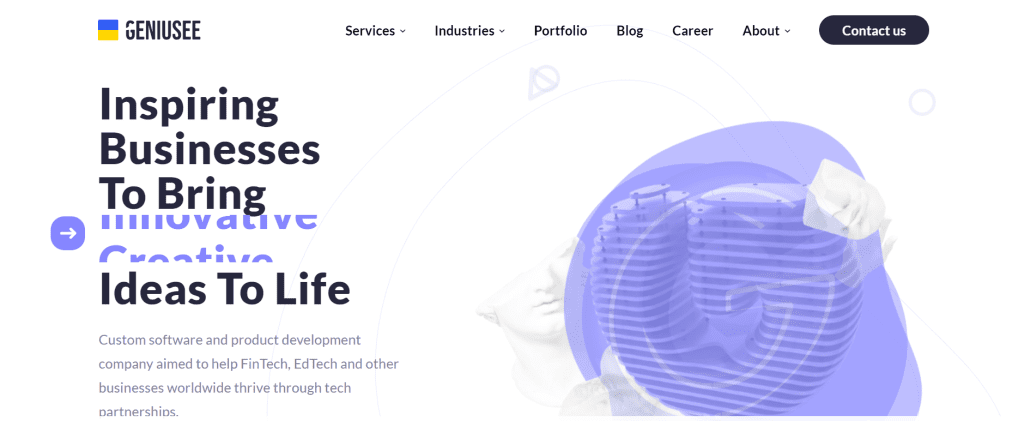 5. iTechArt Group
iTechArt is a one-stop source for custom software development. We provide VC-backed startups and fast-growing tech companies with dedicated engineering teams, delivering scalable products that users love.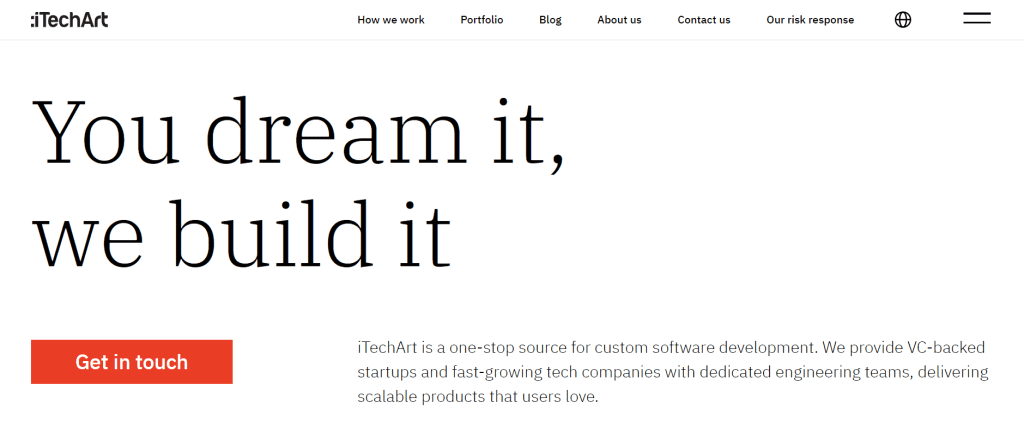 6. Appinventiv
Appinventiv dream, architect, design and develop. But more than that, we are a team of passionate people driven by one relentless pursuit- to craft innovative solutions and deliver unparalleled results.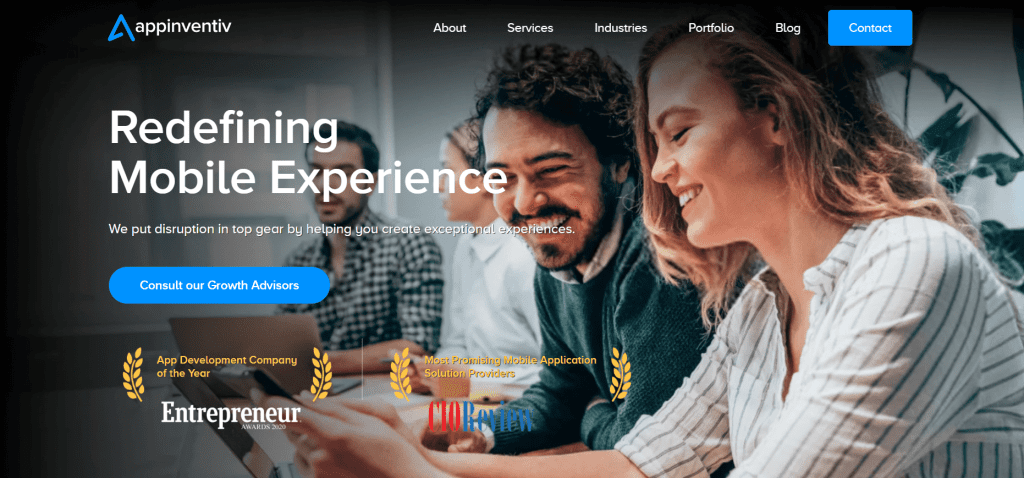 7. The NineHertz
Their offshore IT consulting services along with the AI-powered core helps top companies stay competitive, win new markets and increase shareholder value. Choose from a wide range of custom software development services and get extensive expertise at your disposal.

8. Sigma Software Group
Sigma Software has been focused on delivering the solutions that address our clients' business needs in full, on time, and on budget. We constantly extend our offers, optimize delivery processes, and master new cutting-edge technologies to reach this end.

9. Q agency
Every project is unique and requires a tailored-made approach that acknowledges customer and market problems and needs. Their unique culture of creativity and collaboration drives innovative and better results for their clients. Having extensive experience across multiple industries, markets and always putting users first, they hold ourselves accountable for the solutions they put on the market.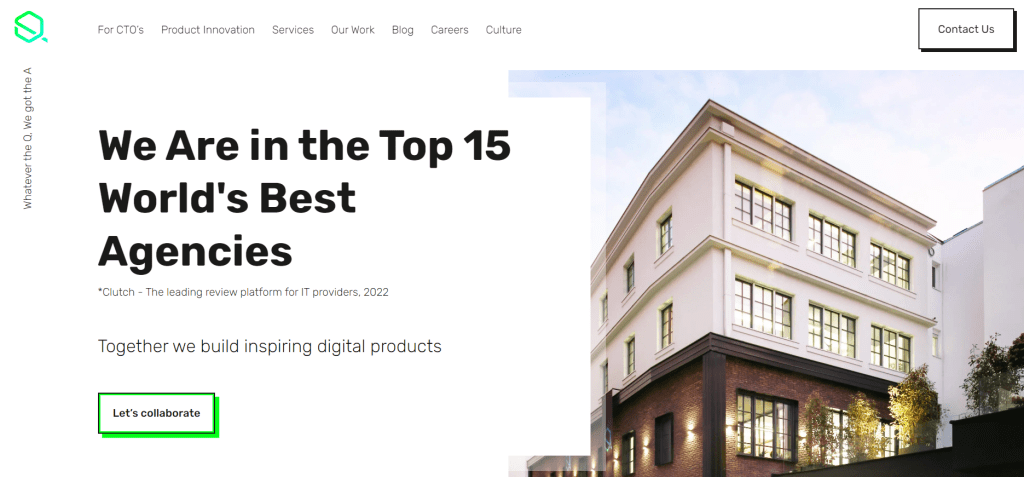 10. TekRevol
At TekRevol, we believe that each digital touch-point is an opportunity to create meaningful interactions and build a mutually beneficial connection between a brand and its audience. They offer digital products and customized software development services with intelligent functionalities and appealing visual aesthetics for multiple platforms.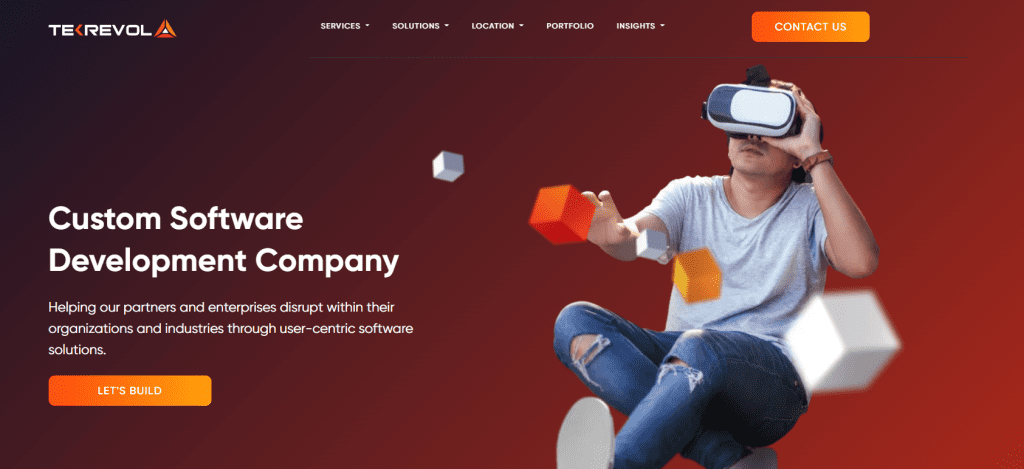 11. Cheesecake Labs
Cheesecake Labs is a software design and engineering partner that helps you build successful tech products.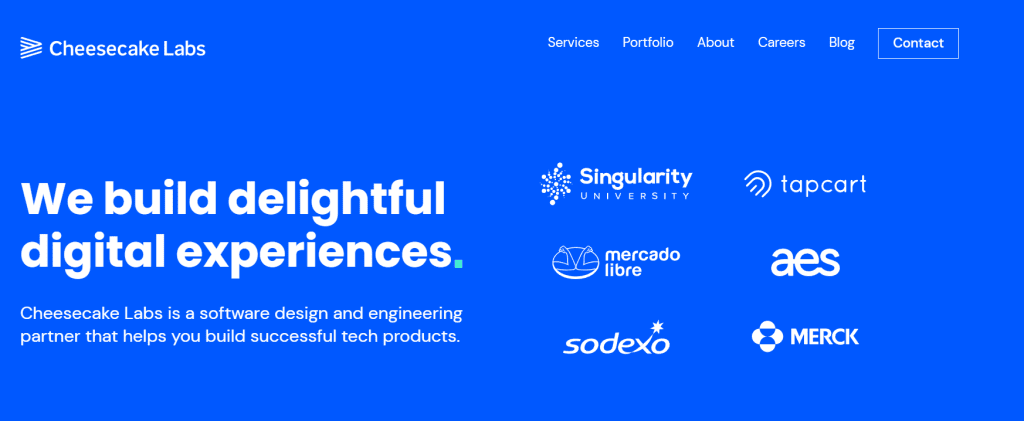 12. Merixstudio
They turn ideas into great digital products. Thanks to a collaboration between unique talents, we solve business challenges by building web apps based on scalable backend solutions (Python, Java, Node.js, Golang), and JavaScript (React, Angular) on the frontend, as well as mobile apps accessible on Android & iOS devices (Flutter, React Native, Kotlin, Swift).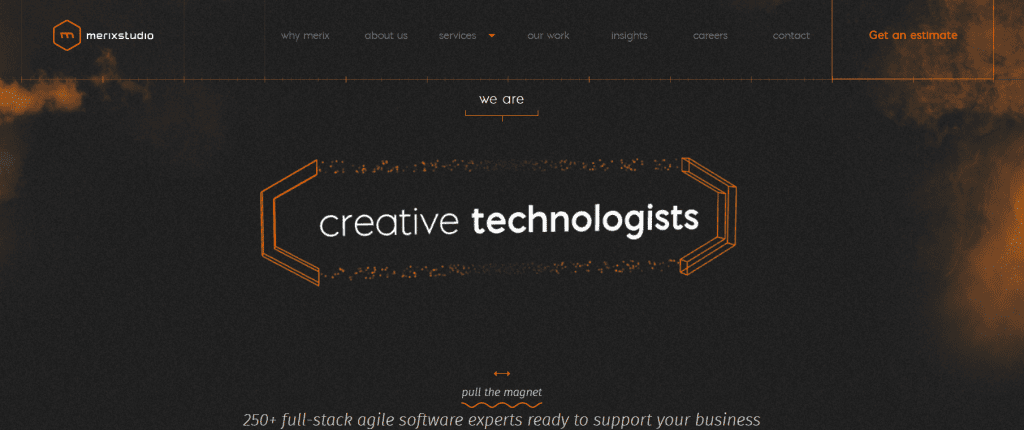 13. Blue Label Labs
Their development process is iterative and built to support any stage of growth your product or business is in. We know good products evolve and we'll build in infrastructure, process, and support to help you scale strategically over the long term.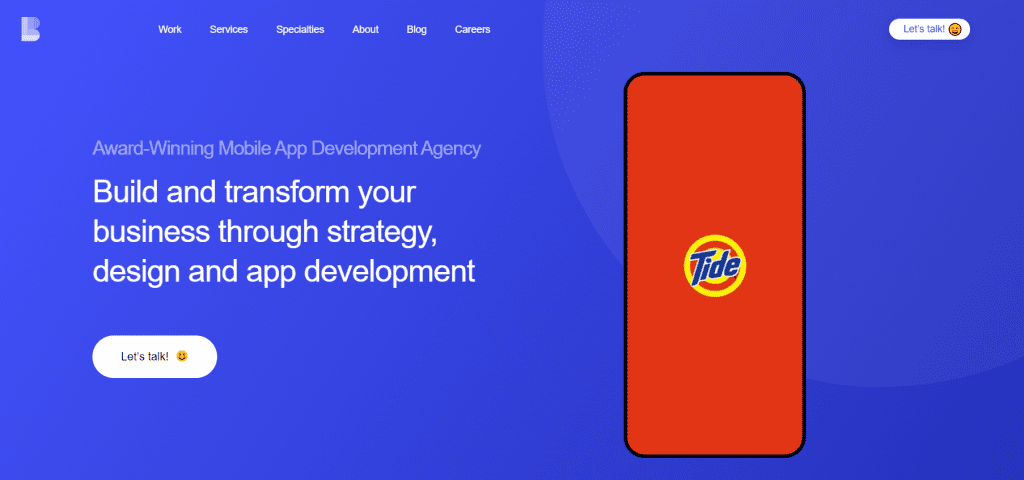 Let's make your ideas a reality. Though the pandemic has taken its toll on all of us, there is no need to be a hostage to the situation. There's no need to stop, it's worth continuing to search for new opportunities and use the situation to develop new projects and ideas. It can as well be a new and exciting educational app.

Let's figure out together how to create an educational app that would help you reach your goals and make this world a better place.
Need help with building educational apps to grow your business revenue? Let's talk!