If you're unfamiliar with Amazon Go, it is a grab-and-go retail model that is one of the best examples of AI in retail. To use it, all you need to do is download the app, select an item from the shelf, and then exit the store.

The items are automatically placed in your cart, and Amazon deducts the appropriate money from your account.
The retail industry has never seen anything like the concept behind Amazon Go.
Amazon Go, which uses artificial intelligence to track the products users purchase and the cash that must be taken from them, is unquestionably changing the way that people shop.
A number of other retail establishments have invested in deep learning and artificial intelligence technology as a result of Amazon Go Retail's success in the few years since its initial launch. Walmart and Microsoft appear to be preparing to challenge Amazon's current dominance in the cashier-free retail space.
The AI-powered Amazon Go's foray into conventional retail strategies has succeeded on the market. The company now aspires to grow to over 300 locations and establish itself as one of the primary AI technology trends that retail establishments will be considering in 2022 and beyond.

However, Amazon Go retail is only one disruptive use case that illustrates how AI may be used as a medium to revolutionize the retail industry. There are numerous additional ways that retail AI is altering the picture of the sector. In this post, we'll examine how AI is used in the retail sector and provide examples from the actual world.
After examining how AI will impact the retail sector in the future, let's examine why it will be necessary in the first place.
What are the benefits of AI in retail?
Every branch of the retail industry has experienced a gain in speed, efficiency, and accuracy as a result of the integration of AI and machine learning solutions.

Businesses now have access to high-level data and information that can be used to improve retail operations and create new business prospects thanks to these AI solutions in the supply chain, retail, and other related industries.
Despite the fact that there are innumerable advantages of AI in retail, these are the three most important ones.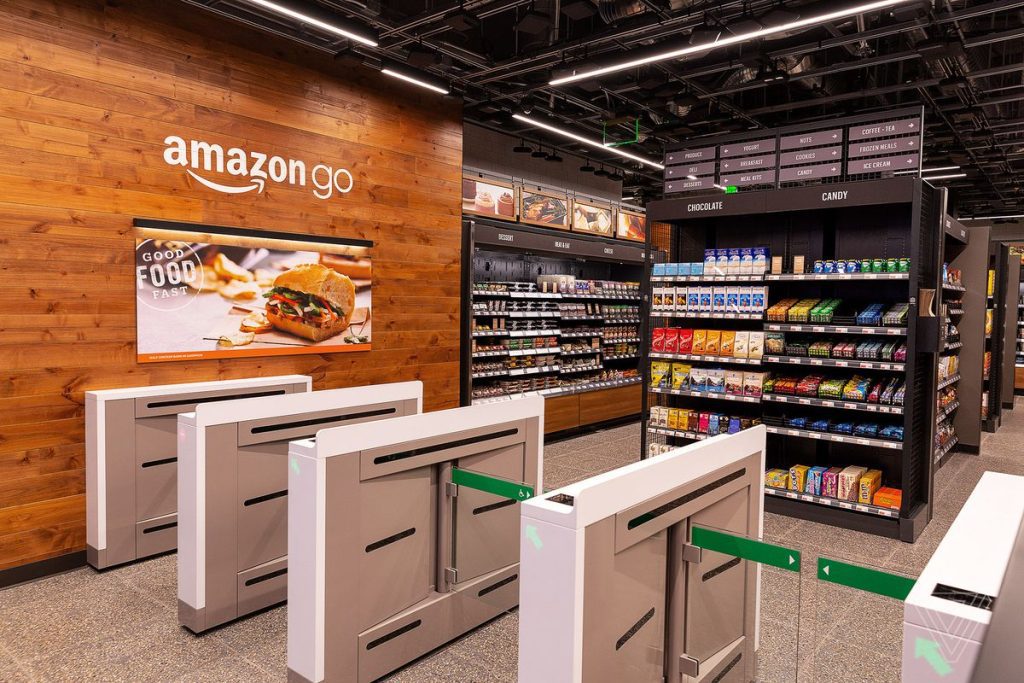 – Captivate more customers: By utilizing artificial intelligence retail solutions, businesses may offer smooth customer service in a variety of situations, from automated checkouts to mood monitoring.

Additionally, customized and immersive shopping experiences are offered to customers through retail AI.

In the end, this results in an increase in customers and a better customer experience.
– Effective promotion and merchandising: Artificial intelligence retail solutions drive marketing and merchandise planning, helping segment customers, generate content, and plan and execute targeted advertising programs.

For example, Walmart is already using AI to scan competitors' offerings, and, in the near future, it hopes to use robotics to scan its own shelves to optimize its product mix.
– Enhance operational efficiency: Routine activities being mechanized, but AI also supports and improves work that is getting harder. AI in retail improves a variety of functions, including route planning for deliveries, delivery tracking, and labor scheduling.
How is AI disrupting the retail industry?
The brick-and-mortar retail industry as we know it is facing a "Retail Apocalypse" as a result of thousands of traditional retail establishments announcing their intention to close their doors due to their inability to produce the same results as online retail outlets.

A lot of retail giants have begun using the potential of artificial intelligence in the retail sector to keep them afloat after realizing the horror that now awaits the future of retail.
Let's take a closer look at a few fields where the integration of retail and AI is making a noticeable impact.
1. Streamlining the logistics and supply chain
A smart, linked, and extremely effective supply chain is one of the main components of the idea of a factory of the future.

The supply chain itself presents a number of opportunities for introducing automation in the business process due to the large number of stakeholders involved in the supply chain cycle, including manufacturers, suppliers, retailers, distributors, and customers.

Supply chain focused AI solutions for retail are known to handle this task with ease.
Supply chain and logistics management powered by AI can assist businesses in anticipating and then responding to changes in demand, inventory levels, environmental conditions, supplier capabilities, and even customer needs.

This eventually ensures increased production, prompt delivery of goods and services, and revenue.
A Capgemini study found that integrating AI into the supply chain could reduce operational costs for retailers by $340 billion. Here are a few ways AI in logistics and supply chain is transforming the retail industry:
– Decreasing operations and inventory expenses and giving consumers faster response times. – Improving the accuracy of demand forecasting.
– Predicting consumer demand for new goods
– Decreasing freight costs, enhancing supplier delivery performance, and ultimately minimizing supplier risk.

These improvements are made by taking into consideration numerous restrictions and then optimizing the supply chain for each.
2. Recognize your target market
Retailers now have a comprehensive understanding of who their customers are because of AI and machine learning.

Businesses may learn what their customers desire and what prevents them from making repeat purchases by analyzing the various customer data and feedback.

Insights gained in this manner include how AI will affect organizations in the future and how it may be used by business owners to gain direct customer insights.

The data can also be utilized to perform customized marketing initiatives, which have been shown to increase customer retention rates across a variety of retail establishments.
3. Providing a specialized experience
One of the most reliable strategies to increase and sustain the customer loyalty count is to respond to the specific needs of the customers.

Something that is conveniently made achievable by combining customer experience with artificial intelligence. According to a survey, 70% of participants said they would be much more devoted to brands that included options for personalization in their retail locations.

Retail brands can easily track and then analyze prior purchases, consumer behavior, and loyalty cards with the help of transactional data, AI, and machine learning to provide more specialized services.

Sephora's Color IQ is a prime example of customer-focused AI in retail. The brand's AI-powered in-store service analyses the skin's surface and makes makeup product recommendations based on the customer's skin tone.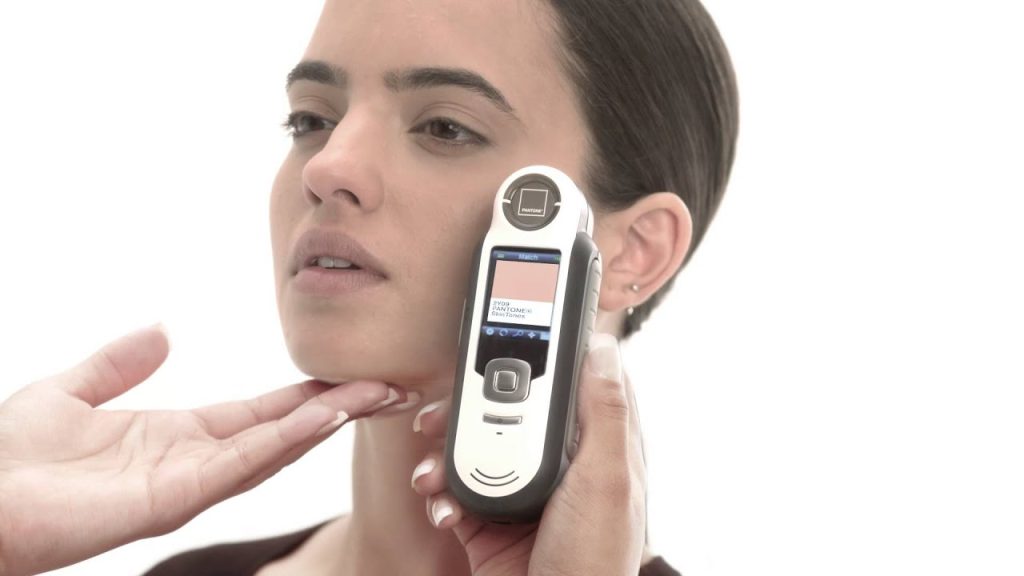 4. Reducing out of stock and markdown situations
The utilization of safety stock can be decreased and the seller can get clear insights into the store's sales trends by implementing AI technologies in retail environments.

Given that merchants won't have to rely on seasonal markdowns, how useful AI is at assigning or refilling inventory will be a good indicator of how much the retail sector is changing. For instance, H&M analyzes store returns and receipts using big data and AI to ascertain how much each location spent on products prior to filling the shelves.

The usage of AI solutions in retail for the aim of analyzing the inventory will prevent instances where retailers order huge amounts of things that are not in demand, which ultimately get wasted and have to be returned – bringing a needless increase in the purchase and shipping cost.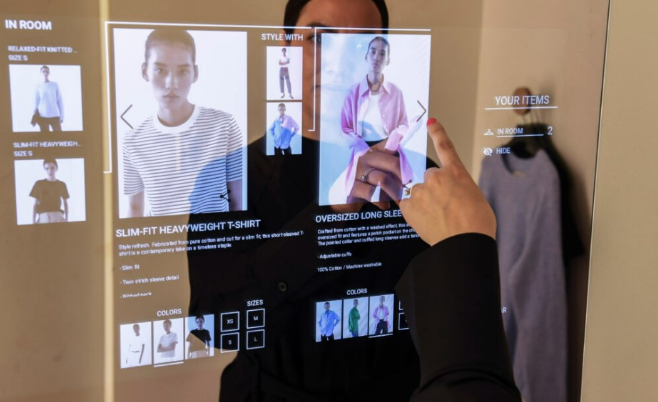 5. MAP analysis
The Minimum Advertised Price is the lowest price that a shop may promote for the sale of a product (MAP).

Products sold below the MAP may have a detrimental effect on sales at stores. Therefore, it's crucial to keep an eye on retailers who tinker with MAP prices.

Retail artificial intelligence can be used by brands to watch and track products in real-time to stop MAP pricing infractions.
6. Transforming the client experience in-store
By installing smart mirror technology in the store, clothing retailers may help clients view how the item of apparel appears on them.

All that is needed is for them to hold the article of clothing in front of their body. The mirror technology—one of the most popular applications of AI in the retail sector—can be enhanced by giving clients more options for what to wear with their chosen piece of clothing and the cost of each item.

Along with helping customers, AI may also cut queues by accepting payments without a cashier and replenishing products through real-time stock monitoring.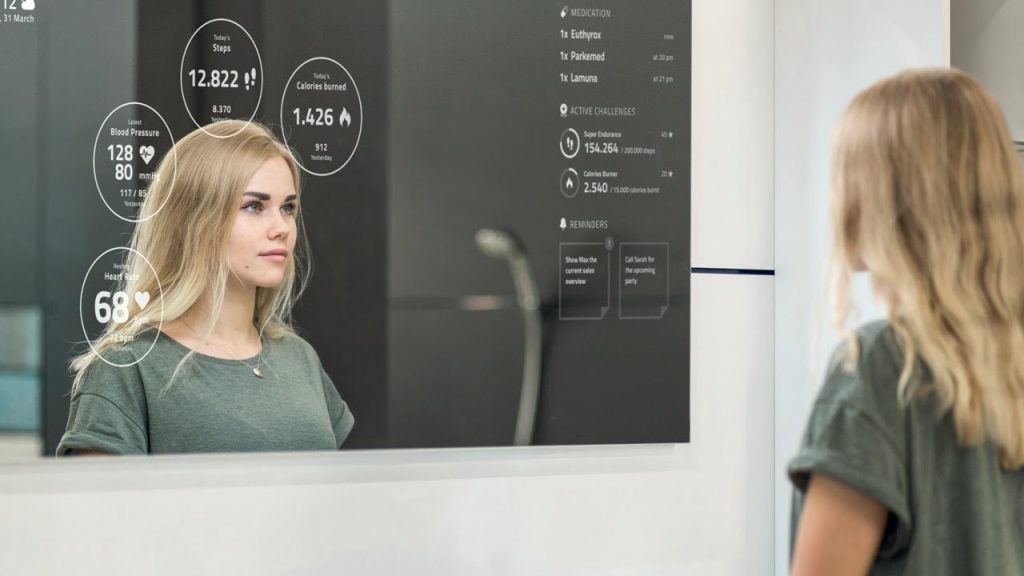 7. Detecting non-scans
Retailers lose out on about $45 billion annually due to non-scans and shrinking. With AI, the catastrophic checkout issue is readily resolved.

Retailers can examine the video feed, identify the instances where the product is left unscanned, and alert the checkout personnel in real-time by using computer vision and AI algorithms.

At the time of checkout, these technologies also assist in spotting fraud and errors.
8. Smart product searches
Additionally, artificial intelligence in the retail sector might make it easier for customers to find products. Customers can now take a picture of an actual item or product they like and use that picture to find an online store selling it.

Here, machine learning quickly categorizes and arranges a vast number of products from various merchants for the clients, simplifying item comparison and search like never before.
9. Behavior analytics and forecasting
It is thought that AI technology is essential for retail companies. Retailers may become more customer-centric by utilizing this innovation to help them sort out the wants and wishes of their customers.

Retailers may make informed decisions about the quantity of goods to be ordered based on the behavior of the customers with the help of data obtained through AI-driven analytics.

Not only will it increase production, but it will also help the organization save time and money. Retail businesses can perform targeted marketing and advertising campaigns based on their target market's location, preferences, gender, and purchasing patterns by using AI algorithms.

It will assist in enhancing client loyalty and retention as a personalized experience is an excellent way to demonstrate your caring for them.
10. Organization of retail operations
The complexity of store operations is a result of multichannel retail. In a warehouse, store employees must perform a variety of tasks. Their duties now extend beyond simply receiving, stocking, and controlling inventory.

They must also handle merchandising, track special offers, and provide product information. By automating back-office tasks and using robotics for quality checks, AI in retail can streamline a store manager's work.

The time saved can be successfully put to use for other fruitful tasks, which will cut down on the amount of time spent at the warehouse.
After examining the various ways AI can be used in your physical retail location, let's examine some actual instances of AI in the retail sector.
How major retailers are using AI?
– The Lowebot: an assisting robot, was first unveiled by Lowe's in 2016. It is among the best applications of AI in retail. Customer service agent Lowebot is multilingual and has the best knowledge of the product's location.

Additionally, it continuously checks the store's inventory and alerts staff when items need to be refilled.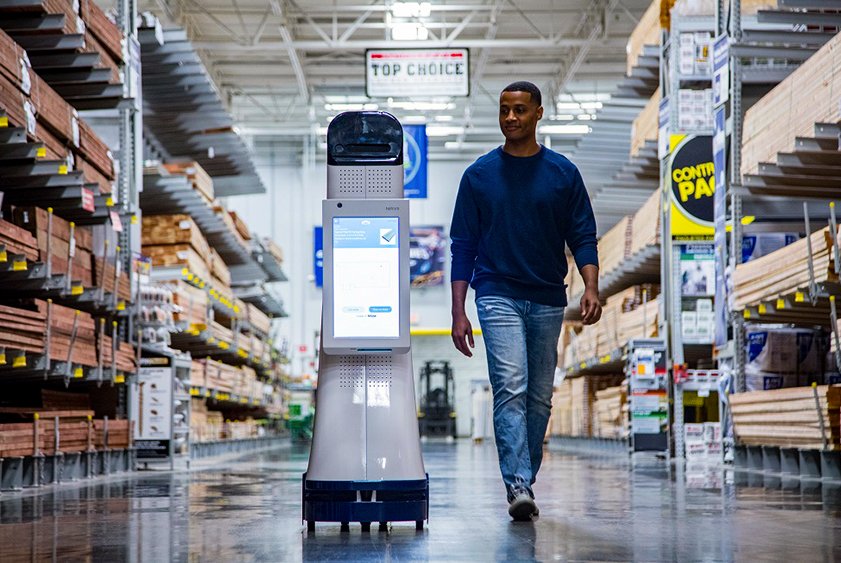 – Robotics for Domino: The DRU sensors assist Domino's in navigating the most efficient route for pizza delivery because they are integrated with artificial intelligence technologies used for military combat training.

Given the amount of money Domino's is investing in technology, a time when robots will take the place of delivery people is not that far off.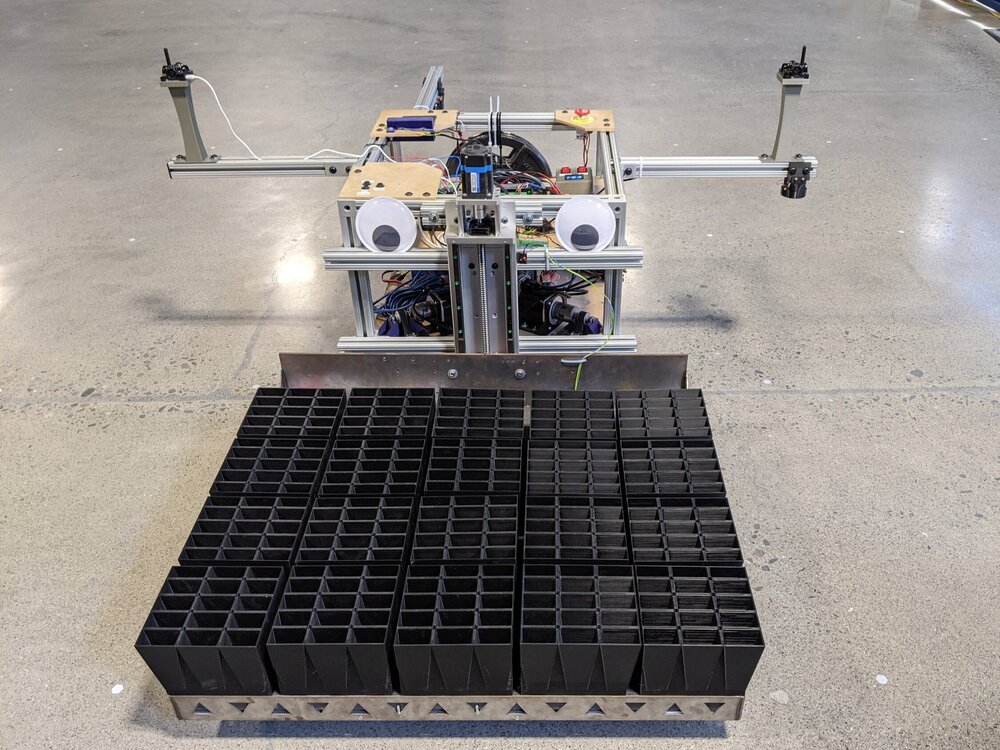 Drone from Amazon Drones, often known as Amazon Prime Air, are a significant, futuristic component of Amazon's delivery system.

Although the launch date has not yet been set, it won't be long before drones deliver the goods we buy to our houses. A future that will serve as a benchmark for retail AI application cases.
Virtual trial room at Walmart Zeekit, a trusted partner of Walmart, can practically dress anyone in any piece of online clothes. Zeekit's offering of interactive fitting rooms to millions of consumers could hasten the spread of the technology throughout the retail industry.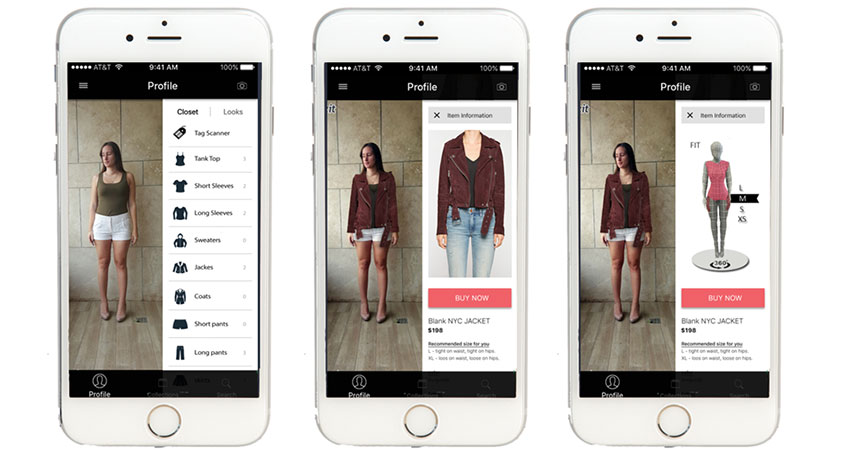 – Neiman Marcus's visual search: The upscale department store uses AI to make it simple for shoppers to find what they're looking for.

When outside the store, app users can take images of products they see and later search the Neiman Marcus inventory to find them.

The photographs assist them in finding related things rather than utilizing ambiguous search phrases.

While integrating disruptive technology into mobile retail or mCommerce apps is relatively much easier, doing so in-store would necessitate a significant overhaul of your business model and would only be beneficial if the integration is technically sophisticated, which can only be done when you have a strong understanding of the industry.
How can Kilowott help in your AI retail journey?
The advantages of utilizing artificial intelligence in the retail market are endless. From offering clear insights into new trends to improving customer experiences, the implementation of AI can enhance your business's proficiency.
Artificial intelligence has countless benefits for the retail industry. The application of AI can boost the competence of your company by providing clear insights into emerging trends and increasing client experiences.
At Kilowott, our highly skilled team of experts will take care of all your difficulties while assisting you in implementing clever AI-driven solutions for your retail business.

Find out more about how Kilowott assists shops in enhancing their businesses. Therefore, you can consult and hire our professionals if you're looking for top-notch artificial intelligence services. We'll take care of all of your requirements!
FAQs on AI's Digital Transformation of the Retail Sector
How is AI affecting the retail sector?
Answer: AI is transforming numerous sectors in all of its shapes and dimensions. The retail sector is becoming much more prognosticative, predicting, and preventative as a result. Businesses may estimate item requirements, map out the price they should be sold at, and more with its assistance.
What role will AI play in retail in the future?
Answer: The predicted $5,034 million market for AI in retail will most likely see it coupled with other disruptive technologies like AR/VR, Blockchain, etc. with the goal of making the retail store intelligent and future-oriented.
Does AI enhance retail and aid in boosting sales?
Answer: Yes. AI in retail provides a thorough understanding of clients, including their purchasing preferences, pet peeves, etc. Among other such insights that are focused on their long-term sales and profit-generating capabilities, it also provides them with information on the stocks that they should reorder or cease ordering for a while.
What advantages does AI provide for the retail sector?
Answer: Improving customer satisfaction, optimizing the supply chain, giving users new experiences, spotting non-scans, and other advantages of AI in retail are just a few.

Additionally, this post has answered your queries related to,
– How does AI help in online shopping?
– Can artificial intelligence make our shopping experience better?
– How is AI changing the shopping experience in the eCommerce market?
– How does the above use AI for improving the shopping experience of the customers?
– How artificial intelligence is used in shopping?
– How is AI used in online shopping?
– What are the benefits of AI in ecommerce?
Need help with AI in retail? Are you a CTO or Operations Head looking for AI solutions for the retail industry? Let's talk