In recent years, there has been a significant movement in how today's purchasers consume information; most of us now like to be able to pick when we want to connect with content.

In addition, media consumption is increasingly taking place on social platforms such as Facebook, Instagram, and YouTube rather than traditional channels.
In this blog article, we will map out current media consumption trends (along with previous years for comparison) to give you a better idea of where to discover your specific target audience.

We will also look closely at the global digital revolution that is now taking place within the media and OTT industry..
The Digital Shift
Media consumption has shifted dramatically in the previous year, and marketers are aiming to capitalize on the latest media consumption trends for 2022.

Some of the important questions surrounding this topic revolve around where the target audiences spend their time and what they do.
This year, we'll be focused on women Millennials (aged 25-40) and Gen Z (aged 5-24), specifically on how marketers targeting these audiences can benefit from the latest media consumption patterns.

Before we begin, keep in mind that they are not only the most sought-after audience online right now, but they also spend the most time on social media, averaging 3 hours per day and counting.

Even while some members of Generation Z are still extremely young, the vast majority of this generation is no longer children. They actually have a lot of purchasing power.
Digital advertising is booming right now. The digital ad industry in the United States will exceed $300 billion by 2025, accounting for more than three-quarters of all media spending and media consumption.

While the epidemic devastated the economy, employment market, and consumer confidence, it appears to have had no effect on a surge in digital ad spending.
In the next four years, digital ad spending in the United States will nearly double. By 2025, the digital ad business will be worth more than $300 billion, accounting for more than three-quarters of all media spending and media consumption.

Digital has surpassed all traditional kinds of advertising, but it has also consistently outperformed our expectations in recent years.
Even the hardest damaged industries, such as travel and automobiles, have recovered. Those sectors will be back in positive territory this year and remain so until at least 2023—though travel isn't anticipated to rebound to pre-pandemic levels by then.

Other location-sensitive industries, such as entertainment and retail, increased faster in 2022 than in 2021.

This suggests they've basically moved on from the pandemic, despite residual concerns about public health and ad spending disruptions caused by modifications in Apple's privacy settings and supply chain troubles.

In 2024, US digital advertisers would spend $64.69 billion more than we predicted before the outbreak.

After decreasing our expectations in mid-2020 in response to the epidemic, we slowly raised them each time we updated our forecast.

Digital ad spending will account for 77.5 percent of all media spending and media consumption in 2025, up from 69.4 percent in 2021.

This shift is due in part to digital media transformation, but it also indicates a healthy, resilient ad market for buyers and sellers.
We anticipate that upper-funnel ads will drive increases in digital ad spending. Although search continues to be a larger contributor to ad revenue than video, budgets are shifting to video.

This is true across a variety of platforms and publishers, including CTV services, merchants, and even social networks, where video advertising appears earlier in the purchasing funnel than other formats.
Without further ado, here are the key media consumption trends in 2022 that you need to be aware of:
Programmatic Display Ads
Programmatic advertising accounts for a sizable and growing portion of display ad spending.

More than 86 percent of US display ad spending was transacted programmatically in 2019, and that figure is expected to rise to 91 percent by 2023.

In that period, the monetary volume of programmatic display will more than double, from little over $61 billion to over $142 billion.
CTV, social platforms, and retail media networks will benefit from walled gardens. Google, Facebook, and Amazon ads are programmatic by default, and their percentage of total US display ad spending is increasing as compared to non-triopoly publishers.

This is partly due to the dominance of these tech behemoths in areas where digital ad budgets are spent, such as CTV, social, and ecommerce.
Buyers are becoming more and more at ease with programmatic CTV. As CTV platforms enhance fraud detection and programmatic inventory quality, the programmatic percentage of CTV ad expenditure will skyrocket.

More than 78 percent of US CTV video ad expenditure in 2023 will be transacted programmatically, up from less than 70 percent in 2021.

However, the programmatic guaranteed deals that dominate CTV environments do not provide the same level of addressability and measurability that some advertisers have come to expect from other programmatic display channels.
We anticipate that CTV platforms will strengthen their programmatic targeting and measuring capabilities.

Cross-channel identity and measurement advancements, as well as advancements in technologies used to establish who within a household is watching a CTV at any given time, will drive rise in programmatic ad spending.
AVOD Services
In 2021, time spent on AVOD (advertising-based video on demand) services increased considerably. According to TVision, time spent watching AVOD in the United States climbed by 200 percent between May 2020 and May 2021.

While the AVOD growth came from a tiny base, it was compared to a 100% increase in time spent watching subscription VOD (SVOD) and a 13% fall in TV time spent. It should be noted that YouTube and Twitch are included in TVision's definition of AVOD.
Despite their popularity, SVODs may be putting a burden on users' wallets. According to a Hub Research study conducted in June 2021, more TV consumers surveyed favored a free-with-ads approach than an ad-free subscription plan.

AVODs come in a variety of flavors and sizes. They include free channels from CTV gadgets and smart-TV makers such as Amazon TV, Roku, and Samsung, as well as independent services owned by Fox and ViacomCBS, respectively.

Furthermore, numerous providers have hybrid plans ranging from low-cost ad-supported tiers to more expensive ad-free levels. HBO Max, Hulu, Paramount+, Discovery+, and Peacock are among them.
Despite their popularity, SVODs may be taxing customers' wallets.

A Hubspot Research study done in June 2021 found that more TV users preferred a free-with-ads strategy over an ad-free subscription option.

According to a Morning Consult and Adweek research, respondents preferred an ad-supported alternative at a lower price to an ad-free choice at a higher price. AVODs are available in a range of flavors and sizes.

They include free channels from CTV gadget and smart-TV manufacturers like Amazon TV, Roku, and Samsung, as well as independent services owned by Fox and ViacomCBS.

In addition, many providers offer hybrid plans that range from low-cost ad-supported tiers to more expensive ad-free levels. Among these are HBO Max, Hulu, Paramount+, Discovery+, and Peacock.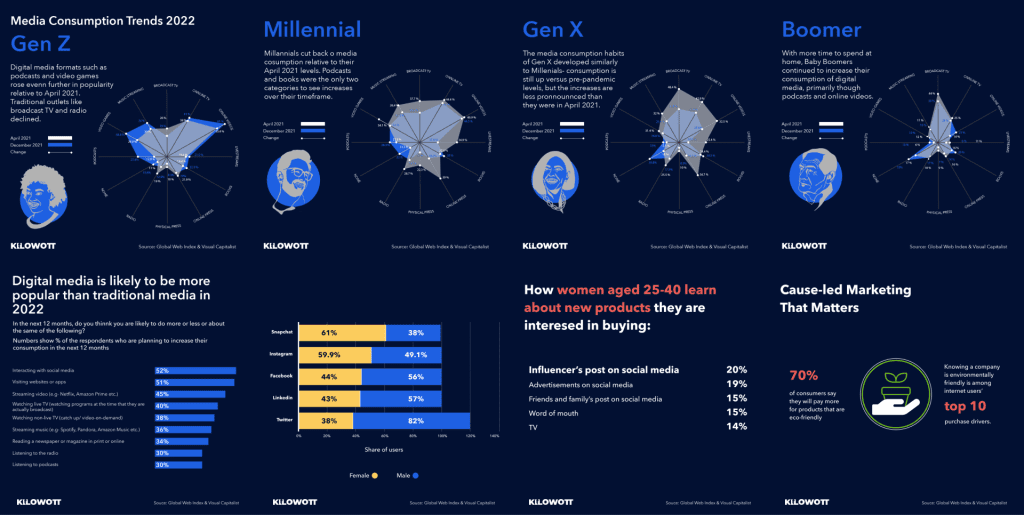 Digital Media Trends for 2022
1. Cause-led marketing (that matters)
Millennials and Generation Z are the most powerful forces pushing cause-led (or purpose-led) marketing, which is all about leveraging marketing methods to speak to, elevate, or drive a greater cause.

It might be increasing awareness about environmental issues, addressing social justice concerns, or any other humanitarian cause that customers can support.

This is a stronger driving force behind consumer purchasing decisions that we will see more of in 2022.
This continuous trend has accelerated with Covid-19. I think we can all agree that the epidemic has had a negative impact on the last few years. People want to invest in something pleasant or beneficial.

Today, mass production has pushed the pricing war race to the bottom, and as a result, businesses have been compelled to discover new ways to differentiate themselves.

Unfortunately, this resulted in brands undercutting one another (which is something that has been working for a long time).

That is where cause-led marketing comes in, as well as the "why" behind the fact that brands must discover new ways to be relevant in 2022.
According to the data, people want firms to take a cause-led strategy, rather than just expecting it.

When it comes to Millennials and Gen Z, 53 percent want to shop from companies that reflect their values, while 64 percent want to shop from brands that reflect their values.
Concerning environmental issues, knowing that a company is ecologically friendly is one of the top ten buying reasons for internet users.

It doesn't have to cost you more money to take on more responsibility; in fact, 60 percent of internet users in the UK and US say they'll pay more for eco-friendly products.
Remember that many customers believe brands should do more, so choose your issues wisely and correctly. It will not be enough to remain silent on issues that are important to your audience.

Customers want you to use your marketing to demonstrate your concern. This is not a trend to be approached cynically.

Recognize the risk of riding on a bandwagon that you aren't genuinely behind. Consumers will see through it and punish you since these are things that are important to them. Approach this method with caution because it demands a delicate touch!
The Superbowl ad with Serena Williams for the online dating app Bumble centered on female empowerment is a fantastic example of cause-led marketing. Serena has already spoken out on feminism and racism, making it an ideal fit for cause-led marketing due to the sincerity of the collaboration.
Pantene, a hair care brand, is another great example. They won the category at the IMAs for their campaign "My Hair Won't Be Silenced," in which they teamed with influencers to combat afro prejudice. This project received +1 million social media impressions.

2. Capturing Hearts with Authenticity
In order to attract consumers in 2022, authenticity is essential. People's attention has shifted in recent years from polished feed and brand-to-peer communications to authentic role models and peer-to-peer contact.

The penalties of failing to read the room can be severe this year, for both businesses and influencers.
The USP of influencer marketing is (and has always been) authenticity. We know that consumers believe what an influencer says about a brand far more than what the brand says about itself.

If marketers urge influencers to compromise on authenticity (or influencers begin to compromise), that essential doorway will close and you will lose access to their audiences.
On social media, there is a growing desire for authenticity and content. Engagement rates are increasing for less polished media such as Instagram Stories and live streaming.

This is because people want to see true, genuine, and authentic information that speaks to them. Below is a post from our work with Ellos, a leading e-commerce business for clothes and home furnishings in the Nordic market.

This partnership is part of their Made by Women project, which aims to promote the fact that every woman has a narrative to share. This is accomplished through allowing different women's voices to be heard for the betterment of all women.
Consistency is one of the cornerstones to achieving authenticity in marketing, which is very important in influencer marketing! You should work on this over a longer period of time, talking to your audience about it and emphasizing your efforts.
To reach a high level of authenticity, the first steps in the influencer marketing process are very important.

When looking at influencer selection, make sure you're going back through the influencers feed, through their historical data, their engagement data and check that the previous content they've been sharing makes sense for your situation.

Let's say you want to promote your range of reusable fashion. Don't pick an influencer with a feed consisting of fast-fashion.

For the influencer, a collaboration with your brand probably doesn't fit within their narrative. For your brand, the collaboration is going to feel like a miss-match and lose its core – the authenticity.

We can't stress this enough: make sure you work with influencers that are relevant to your audience and your topic.
Taking this a step further, inflated accounts constitute 15% of influencer marketing ad spend. It's no surprise that accounts on social media are buying followers and engagement in 2022.

However, in order to reduce the chances of your business collaborating with these accounts, you must work with precise data. You will be able to gain meaningful insights into influencer statistics and analytics with this data.
Before engaging an influencer for a campaign, Kilowott uses our platform to propose possible best fits based on brand, target audience, and campaign objectives.

However, the choosing process does not stop there. We then examine thorough historical data on performance, audience, and engagement; false followers are out, vanity metrics are out, and inflated performance is avoided, all to ensure that every influencer we work with is the absolute best fit for each brand's plan.

3. Social Media & Ecommerce
According to IBM research, the pandemic in 2021 accelerated eCommerce by five years. This transition was already underway, but it has now become a reality much sooner than any of us anticipated. Consumer behavior is altering as a result of this rapid transformation.
We ordered meals online instead of going to the grocery shop. Instead of perusing real stores, we turned to social media for inspiration.

Younger generations are already tuned in to these behaviors; it has already shifted to be more about consumption (shopping) and less about giving (sharing personal details).

Furthermore, older generations have just found the benefits of social media – the pandemic has shown naysayers that it is actually pretty easy to discover, explore, learn, socialize, and shop online!
Social media platforms are attempting to keep customers on their platforms throughout the purchasing journey.

They accomplish this through features that allow brands to connect their product catalog to ads, live streams, digital storefronts, influencer posts, and, perhaps most importantly, the "Checkout" feature, which allows users to purchase a product without having to visit a third-party website (which is your website).
In 2022, your goal should be to catch the social commerce train before it leaves the station. We all know that social media is a crowded space for fashion brands, so make sure you have a strong brand presence to cut through the noise of your competition.
Consumers use social networks to research and shop from brands, which is known as social commerce. So, how can you ensure that your brand gets discovered by today's consumers? This is a difficult question! However, there are a few things you should keep in mind regarding how today's consumers purchase.
Consumers expect more human interaction from brands. This is related to the fact that consumers prefer peer-to-peer communication over brand-to-peer communication, which means you must focus on what is genuinely important.

Millennials and Generation Z are spending their money on businesses that reflect their ideals and on items that express who they are.

They identify with the brands from which they purchase. This relates back to what we discussed earlier: authenticity and cause-led marketing that matters.

4. Digital Alternatives
In recent years, consumers' preferences have shifted toward 'new' digital media channels as opposed to more traditional forms of media such as television, print, and radio.

This digital change became even more visible in the spring of 2020, when the use of streaming services increased as a result of social alienation and more time spent at home.

According to the Los Angeles Times, three out of every four people in the United States boosted their use of streaming services after the corona pandemic broke out.
Another example of the digital shift currently taking place in the media landscape is a recent study from the Swedish Press, Radio, and Television Authority, which shows that younger generations are abandoning more traditional platforms such as TV, newspapers, and radio – which may come as no surprise.

According to the same report, even the elderly are shifting toward a more digital consumption pattern, with their time spent on social media increasing dramatically in recent years.

5. Ad-weary Consumers Need Value
According to a recent Ogury study, 90 percent of customers find irrelevant mobile advertising unpleasant – something most of us can agree on.

In today's media ecosystem, messages are thick and quick, and it takes a long time for a corporation to break through the noise and reach its target audience.
Whatever your offering, marketing nowadays is all about being relevant and demonstrating demonstrable value to the consumer.

This is supported by a Novus study, which found that practically every second customer enjoys engaging with advertising as long as it provides relevant offers.

In other words, it is critical to keep a careful eye on your target audience; what is relevant to them, how they consume media, and how you can mix your communication into their lives in such a natural way that it is not viewed as unsettling or distracting.

To develop a loyal consumer base, you must also cultivate solid relationships with your buyers, which necessitates consistency and a long-term goal.
Another essential consideration for producing value and hence fostering loyalty among today's consumers is that these individuals are frequently affected by friends and others they follow on social media.

Influential people on social media (influencers) are a typical source of knowledge nowadays, whether you are seeking recipes for this weekend's dinner party, inspiration for summer clothing, or suggestions on the most efficient lawn mower.
As per research, 49 percent of customers believe an influencer suggestion is more trustworthy than a brand endorsement. So, if your target audience is on social media, chances are they follow one or more influencers, making this an useful area for your company to get noticed.

How did you like this report on media consumption trends? For more such insights, follow the Kilowott Blog.