Harnessing the full-funnel marketing approach is essential for businesses as it drives awareness and demand across multiple platforms simultaneously.
In this competitive digital buying world, conversion is the most important metric in the process of building a business and increasing revenue. Conversion simply means the ability to convert a visitor into a customer but it doesn't happen, it needs to be optimized. According to the latest stats, 88.05 percent of online shopping orders were not converted into purchases, i.e., shoppers failed to complete their purchases and went away without making a purchase.
One reason for this is that many marketers still focus on old approaches that don't fully reap the extremely beneficial advantages of the super-powerful abilities available today. Brands that stand out and succeed in today's competitive market have implemented a full-funnel marketing strategy.
Today, modern marketers need to adopt a full-funnel marketing strategy with open arms that enables them to control the entire sales funnel, increased ROI, increased traffic, and, most importantly, increased repeat purchases.
So, what is full-funnel marketing? And how it can benefit the business? Let's delve into it.
What is Full-Funnel Marketing?
A marketing funnel is a system that tailors messages to consumers at that particular stage of purchase where they are actually in.
Instead of focusing only on sales, it takes each step of the marketing funnel into consideration and provides touchpoints at every stage. The marketing funnel helps brands visualize the entire 360-degree customer journey to impact each step of the funnel from lead to customer.
The full-funnel marketing approach is an advanced marketing approach that considers every step of the funnel by data-driven decisions and uses conversion rate optimization to increase the ROI and drive more sales.
What is a Marketing Funnel?
Marketing funnels are the most efficient way to convert leads into potential customers. For a business, attracting leads is the first step, but converting them into potential customers is essential to keep the sales cycle running smoothly. Providing solutions to customers at every step of their journey will strengthen relationships and build better brand experiences.
Having a market funnel will allow you to track, prioritize, organize and implement your marketing strategies to grow your business and increase your customer base. Furthermore, using marketing funnels will give your business the ability to make smart data-driven decisions which will ultimately result in a higher ROI and faster growth. Therefore, the marketing funnel is basically divided into four distinct sections that are interconnected and through which the lead passes before becoming a complete conversion.
Stages of Funnel Marketing
The marketing funnel is a classic funnel-shaped structure whose stages are the connecting dots between marketing strategy and lead generation.
A good full-funnel marketing approach is wider from the top, allowing the maximum number of leads to enter.
But as you move down the funnel, it narrows down to marketing strategies that focus more on generating quality leads, increasing conversions, and generating revenue. In a nutshell, it is an effort to nurture relationships and create a better brand experience.
Here we will take a look at each stage of the marketing funnel, which is not cemented anywhere. It ultimately depends on the type of industry, marketing approaches, target audience, and objectives.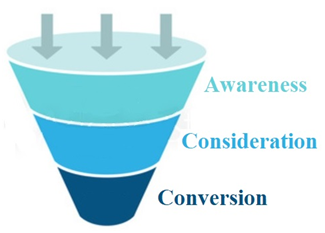 Awareness
· This is the topmost segment of the funnel known as the "reach" area that allows marketers to reach their target audience by making them aware of their brand or products.
· Customers at this stage are just exploring your brand, they are not fully aware of brands' products and services.
· The focus is here to build awareness as well as draw the attention of potential customers through engaging strategies like content marketing, video marketing, social media campaigns, advertising, and other easy-to-discover content that caters to their needs.
Consideration
· This is the middle of the funnel, where marketers are nurturing leads that are actually willing to buy.
· At this stage, consumers are actively seeking or interested in information that helps solve their problem.
· The objective of this stage is to build trust with target audiences and engage them with relevant marketing messages to make your brand stand out from the competition.
· For example Paid Search Advertising, Email Marketing, and Social Media Marketing, Specials and Coupons and Reviews are effective tactics to wow customers.
Conversion
· The bottom stage of the funnel where your target audience is heavily aware of your brand but needs to be headed in the right direction.
· The key is here to encourage the customers to say yes, click and complete the sale, which ultimately leads to increased conversion and more revenue.
· For example remarketing ads (with calls-to-action like "Buy now"), branded search ads (ads that appear when someone searches for your business by name), display ads (ads that appear while people are browsing other websites), Google play ads (pay-per-click ads that appear in the search results) will aid in reinforcing and encouraging action.
Therefore, the full-funnel marketing approach provides marketers with an opportunity to develop a complete relationship with customers through effective marketing strategies that include awareness, views, and conversions all at once.
Why Full-Funnel Marketing is Important?
The full-funnel marketing approach is a helpful framework to map out which part of a customer's journey is lagging the most and needs to be fixed. Thus, it brings complete visibility to every stage of marketing strategy.
The full-funnel marketing approach is based on a data-driven strategy, which makes it possible to focus on prospective customers in each step as a different audience, who require different content, pricing, and targeting.
An effective full-funnel strategy increases the rate of repeat buyers as it establishes a trusting relationship between the brand and buyers. This type of engagement will drive the customer to buy more.
By combining the power of both brand building and performance marketing, many leading organizations have generated a higher overall return on ad spending than on spend on performance channels alone.
Measuring Impact at Each Full Funnel Marketing Stage
The idea of full-funnel marketing is not new; it's a total shift in the way marketing works. Through linked teams, measurement systems, and key performance indicators (KPIs), brands are efficiently measuring impact at each funnel stage. This enables marketers to adjust their approach accordingly to maximize reach and increase conversions.
A well-defined upper sales funnel stage helps you increase the reach of your business to increase brand awareness and earn new customers. Therefore, it's important to assess impressions and reach to see which audiences are viewing your messages. Also, it is necessary to keep a watchful eye on visitor metrics to identify the number of unique visitors.
For the consideration stage, doing the estimating will help determine the amount of purchase intent in your funnel. For this, you need to measure key performance indicators (KPIs) that are specific to your business. This includes bounce rate, click-through rate, email open rate, engagement rate, web page or landing page, and more.
For the conversion stage, measuring its impact will help you uncover sales trends and also help you determine which marketing channel is most effective at converting visitors into buyers. The number of online transactions, average order value, cart abandonment rate, etc., are some of the metrics used to measure impact.
Benefits of Full-funnel Marketing Approach for Businesses
The fast and smart optimization of the funnel-funnel marketing approach helps brands get in front of people at each stage and turn potential customers into clients as they reach the bottom of the funnel, ultimately increasing revenue.
Here are reasons why businesses should incorporate funnel marketing into their marketing strategies.
Build Brand Awareness
Brand awareness is an important step that can cement your brand at the top of the mind of potential customers. A quality content strategy can boost your business and can drive performance-marketing goals, such as leads and sales.
The key to creating effective awareness is to reach the right audiences on the right channels.
Video advertising is one of the effective ways to reach a large number of consumers and elicit powerful emotional responses. In fact, Hubspot research states that more than 50% of consumers are more likely to watch video content because it allows advertisers to connect with audiences in their preferred format. Through video advertising, brands can generate higher engagement, enhanced targeting, and personalization by providing greater visibility into who is seeing their ads.
Depending on the type of products and services and target audience, brands can choose the type of advertising that can do a good job of telling the brand's story to the new custom audience.
Increase On-site Engagement
Funnel marketing builds engagement with potential customers by tailoring website content based on prospect's behavior and interests. Having a clear insight into what's happening on the site will help you build a friendly relationship with your website visitors and keep them visiting again.
In the funnel market approach, the consideration stage helps businesses build personalized engagement with their prospects by sending them interactive, personalized marketing messages that provide informational content to solve their problems.
Pushing Viewers to Convert into Customers
With focused marketing strategies such as Search Engine Optimization (SEO), Paid Advertising, or Social Media Marketing (SMM), funnel marketing helps businesses get real visitors who actually make purchases and convert into customers. For any business, the most important aspect is increasing conversion and retention which ultimately boosts revenue.
Each stage of funnel marketing leads to higher conversions through A/B testing and helps businesses optimize their sites for better results.
Builds Loyalty
Although the primary motive of funnel marketing is to convert leads into potential customers, the process does not end here. Once the conversion is complete, the emphasis is on customer retention, reducing churn rates, and building loyalty. The funnel marketing approach allows businesses to reach customers who have already purchased through a clear call-to-action strategy. The higher the retention rate, the higher the ROI and loyalty.
Build New Leads from the Existing Ones
Happy customers are more than just customers, they sing praises from the top of the roof, and are more likely to recommend other people, resulting in repeat purchases and the creation of new leads. In fact, 83% of buyers say that word-of-mouth has greatly influenced their buying decisions.
Funnel marketing helps businesses increase repeat purchases and convert existing customer bases into new prospects by using popular tools like social media campaigns, email campaigns, and Google reviews.
Outline to an Effective Full-Funnel Marketing Strategy
Reach Out to Target Audience
The very first step is to decide who your target audience is. Knowing your target audience can help you decide what type of engaging content your business needs to generate awareness of your products or services.
Through social media, web analytics, and surveys, you can understand your target audience.
Determine the number of stages in your funnel approach
Determine the number of steps in your funnel approach, so that you invest the same amount of time and energy at each stage of the funnel to attract high-quality visitors, nurture them into leads, convert them into customers, and ultimately turn them into happy customers.
Popular Marketing Strategy to Each Stage
The main benefit of funnel marketing is that it is completely customized; you can build according to your target audience. Funnel marketing enables you to use tailor-made tactics to drive conversions on your site.
The most popular strategies include:
Top of the Funnel Marketing – Content marketing, Video Marketing, Social Media Campaigns, advertising, and other easy-to-discover content
Middle of the Funnel Marketing – Paid search advertising, Email marketing, and Social Media Marketing, Reviews, unboxing, eBooks, CRO are some effective tactics.
Bottom of the Funnel Marketing – Remarketing ads, Branded search ads, Display ads, Google play ads, Product trials, and demos, and remarketing target people.
Entice Customer through Some Marketing Tactics
· The right marketing activities such as advertising, email marketing, social media can help retain customers.
· Use similar tactics to educate them about their problem, ask them their thoughts about your marketing design.
· Explain to them about your new product solutions for their future use and ask them to share their feedback.
Have a Good Online Presence
· Once you are confident you have engaged your customer, now enhance the brand experience.
· Grow your reach across various platforms and build a good online presence without sacrificing relevance.
· This move of funnel-funnel marketing will increase visibility and attract more customers.
· You can define based on the preferences of customers, their lifestyle, or depending on your company logo, the tagline you want to be displayed across platforms.
·   Consider combining audio and OTT (over-the-top) ads to reinforce your story and messaging to audiences as this will increase purchase intent and action.
Customer Journey Mapping
· Customer Journey Mapping uses storytelling and visual representations to represent the customer experience on your site.
· The goal of this strategy is to give businesses a way to get into the minds of their customers, helping them gain valuable insight into common customer pain points and how to improve them.
· The customer journey captures all potential customer contact points, for example, interactions with a website, social channels, marketing, and sales teams.
·        The map should define the customer experience at each stage of the marketing funnel. This includes how the customer went through the entire process and how your business responds.
Customer Relationship Management
· Customer relationship management (CRM) focuses on maintaining relationships and interactions with customers by providing a positive experience through business strategies.
· CRM helps build, acquire, maintain and nurture long-term relationships with customers.
· Use the proper CRM at each stage of the marketing funnel whenever you interact with your customers.
· By implementing a CRM, your business can deliver an outstanding customer experience that will further increase overall business profits, customer loyalty, and make you succeed where others have failed.
Beyond Conversion
· As marketers, we often neglect the importance of customer retention. Just because the customer closes, doesn't mean you stop reaching them again.
· Through inbound and outbound tactics, you need to market your upgraded products and services to them.
· Retaining will lead to repeat customers as well new customers who will be more profitable in the long run.
EndNote!
The full-funnel marketing approach has become an important element for businesses that are struggling to stay afloat due to the dramatic changes in customer behavior seen during the COVID-19 pandemic. Due to the complete lockdown, economic pressure, and changing preferences, more than 60% of consumers have tried new shopping behavior. Consumers across the globe have responded to the crisis and started experimenting with new brands and new locations. With so much uncertainty, marketers need to develop a better understanding of what their customers want and how their current funnel marketing strategy will win over existing customers as well as new ones.
Let us, at Kilowott, assist you in creating a well-positioned brand and ensure that your brand gets a positive reception from your employees and customers.